Night falls; soldiers are shadows and the Palestinians standing at the checkpoint are only moving shapes. Gush Katif. Gaza Strip. Or is it RafiakhYam? It is one of the 21 settlements in the Gush Katif block. In the streets outside the house, I stay in dead-end streets that empty into a sand dune. Behind it, the sea. What a view. Children play, children laugh. This is the Gush printed in my head.
Eli Feist, 69, one of the first Israelis who moved into Neve Dekalim in 1983, Gush Katif block, Southern Gaza Strip, Israel, in May 2005.
Benedicte Kurzen
Having spent so much time in the Gaza Strip, I had to start from the beginning and put aside all the prejudice I had about settlers. "We don't like journalists because they don't like us," shouted a man outside the supermarket in Neve Dekalim, one of the settlements. "Journalists are suspicious."
So at first I was fearful. A year ago, a group of Jewish children in Hebron attacked me. An Israeli soldier stepped in, and I walked away safely. It might sound silly, but it was the first time I was being threatened for who I was, for my friendship with a Palestinian. It made my heart pound. I am so used to working like a fly on a wall. But that time was different. I was being attacked for who I was, not what I was. This is how I came to Gush Katif.
Photographing daily life was the backbone of my work. But close-up portraits were the intimate tie between me and them. And in respect, I started to dress like them. A year ago I did the same: I wore a headscarf during my stay in Rafah with the Palestinian widows.
A concrete wall protects Israeli soldiers from Palestinian attacks at the Abu Holli checkpoint in the Gush Katif block of settlements, Southern Gaza Strip, Israel, in May 2005.
Benedicte Kurzen
Week one in the Gush was not easy. To add insult to injury, I selected to work with an old Rolleiflex, not a state-of-the-art digital camera. No more overshooting, no more bursts of frames. Twelve frames on a roll. Not one less, not one more. What a change from 350 frames on a 1 gig card .... The Rolleiflex is perfect. It is a portrait camera to portray a place and its people. A new visual experience for me. Break the habits, start from scratch.
The disengagement will take place by mid-August, 2005. Beginning in July, 2005, at least 41,000 Israeli soldiers and police were deployed in order to evacuate 9,000 settlers from part of the West Bank and Gaza Strip. Shmuel Abuav, the director of the Construction and Housing Ministry, gave a detailed outline on relocation solutions for the settlers. The ministry is preparing 1,500 units, 530 of which are prefabricated homes. Evacuees have also been encouraged to use the government's website to find rental apartments. There are approximately 1,800 families that will be uprooted, the largest community, Nitzan, is expected to become the new home for most of the evacuees.
Who are these people? All of a sudden, I am alongside Israeli soldiers who destroyed the homes around me in Rafah. All of a sudden, I am on the receiving end of rockets and mortars fired by Palestinian activists. Gone are the preconceived ideas of day one. Political slogans seem far away; these settlers' lives are about to be destroyed over the next few weeks. Some paid dearly for staying and living here: a dead son, husband, wife.
Two months ago photographers were few. Today, we are so many ....
An annual demonstration which gathered thousands of Israeli settlers and their supporters walk on the beach in support of the Gaza settlements, between Shyrat Ayam and Gaza Beaches, Gush Katif block, Southern Gaza Strip, Israel, in May 2005.
Benedicte Kurzen
Mikail, a French-speaking Israeli, runs a pizzeria in Neve Dekalim with her husband. She wakes up and swims in the sea daily. Like her, I often heard people hinting that a miracle was soon to come; a "ness" in Hebrew. What kind of miracle? Regardless of what brought them here, ideology, religion, or sheer economics, they built a nest that was comfortable and they will have to build it again, elsewhere. Non-Jews might have a hard time understanding why people like Eli Feist, 69, moved here in the 1980s, or why Itsik rebuilt his life in these dunes after being expelled from the Yamit settlement in the Sinai.
A forced move is not pleasant. And people are sad. That means time must be spent talking to them, long before taking pictures. Socrates, the next-door neighbor, wishes his house would go to the Palestinians he employed in his greenhouse, his way of saying the desert must keep blooming.
And just like everywhere else, having spent time in the Gush before the media circus arrives gives a competitive edge: they remember your smile, your words. For a moment, they seem to forget about the ticking clock, about the unavoidable. These are the quiet residents who will follow the rules, and leave peacefully, eager to rebuild. But cameras too often focus on the loud and violent ones, most of whom have never lived in the Gush.
Just a few days to go...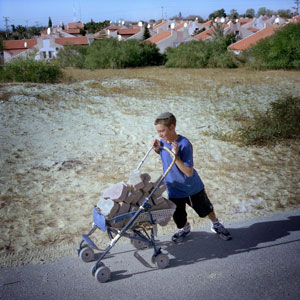 Ehud, 13, carries bricks in a baby stroller to build a basketball playground in the Neve Dekalim settlement, Southern Gaza Strip, Israel, in May 2005. Ehud, an American, has lived with his parents in Neve Dekalim since he was 1.
Benedicte Kurzen