On the morning of July 12, 2006, eight Israeli soldiers were killed and two more were kidnapped at the Israeli-Lebanon border by the terrorist group named Hezbollah. A few hours later the second Israeli war in Lebanon began.
Children play cards and try to pass the time in a security room in Nahariya, Israel, on Fri., July 21, 2006. Children and citizens of Nahariya were forced to stay in their security rooms for a second week after Hezbollah's Katyusha rocket barrage struck their town. Many private entertainment companies volunteered their time to entertain children who were forced to spend their days in the safety rooms.
(Rafael Ben Ari/Chameleons Eye)
The events that came after the incident on the border caused the Israeli government to react fast and harshly in an attempt to try to get back the kidnapped soldiers as quickly as possible. The Israeli Air Force and the Israeli Defense Force artillery fired and targeted Hezbollah bases in south Lebanon. Hezbollah, a militant group, has declared many times that it will destroy Israel in the name of Allah as part of their world Jihad Islamic war against all the non-Islamic religions such as Judaism and Christianity. Hezbollah has been supported by Syria and Iran since it was created in the 1980s.
One morning I found myself driving from south Israel to north Israel to cover the war for Xinhua, a Chinese news agency. I was supplied with a war kit (a helmet and a bulletproof vest with a press sign over it) along with my usual photography gear.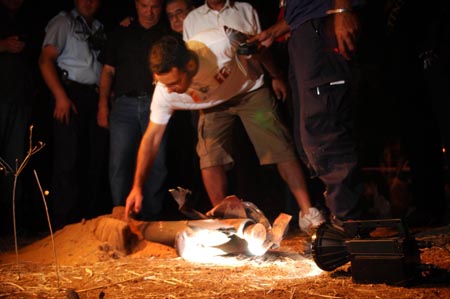 A crowd looks at the second Kassam rocket fired from Gaza that landed in Ashkelon, Israel, on Wed., July 5, 2006. Magen David Adom paramedics treated eight people suffering from shock, including two children, and evacuated them to local Barzilai Hospital.
(Rafael Ben Ari/Chameleons Eye)
It was the first days of the war and the Israeli Air Force was attacking, trying to find and destroy Katyusha rocket launch pads in an effort to prevent Hezbollah from firing missiles towards northern Israel. Around two million children, men and women in Israel are affected by the bombing.
As I got closer to Haifa, the third biggest city in Israel after Jerusalem and Tel-Aviv, with a seaport and many chemical factories, I felt stressed by the situation. Many army and security vehicles were driving next to me and helicopters were flying around. Haifa was a ghost town--everyone was in underground shelters. I felt very uncomfortable as I drove through the city because it was so strange to drive through a beautiful and empty place that on a normal day is full of life. All the shops were closed and no cars were driving by. Suddenly, a siren went off and I knew that I had around 20 seconds to find a safe place before the missiles would start falling from the sky.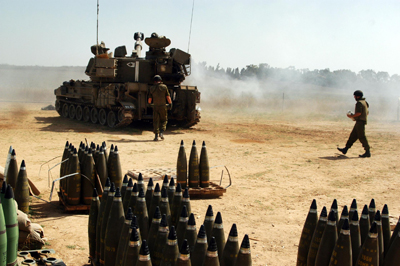 Israeli mobile canon unit soldiers reload the cannon for the next round to be fired towards Northern Gaza Strip in retaliation against two Kassam strikes over Sderot in Nachal Oz, Israel, on Tues., June 6, 2006. One of the rockets landed inside a home, striking the bed of a 17-year-old boy who had left for school a few minutes earlier. The building sustained extensive damage. Three other rockets were fired at Sderot from Gaza and landed in open territory.
(Rafael Ben-Ari/Chameleons Eye)
I stopped my car immediately and, wearing my vest, grabbed my camera and helmet and ran into a ditch on the side of the road. A moment later I heard a few thudding sounds around me. I decided to go and see the landing site. As I got closer, I found that a building was completely destroyed but fortunately no one was injured because everyone had taken shelter.
As of today, two million Israeli civilians are still under the threat of the Hezbollah terror attacks and the war in Lebanon is still going on. Massive damage has been inflicted on both sides and many lives have been taken. I hope this crisis will end very soon.