Truth in photography comes in many forms.
David Stoecklein would never pretend to be a photojournalist, or even a documentary photographer. He is a hard-working commercial photographer whose work has been featured in national advertising campaigns for such companies as Marlboro, Copenhagen tobacco, Bayer Pharmaceuticals, Chevrolet, Ford, Chrysler and Canon, with whom he is an "Explorer of Light," a select group of 60 top American photographers.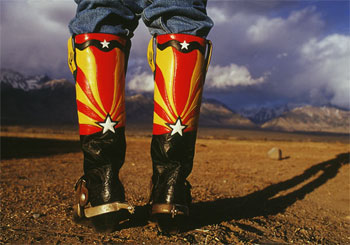 David Stocklein
When we think about photographers such as Richard Avedon, Annie Leibowitz, Irving Penn and Arnold Newman we understand that very often such masters, who primarily work commercially, leave a legacy of great works that capture the people and times that make up our culture.
When viewing Stoecklein's body of work, taken over a 30-year career, we see revealed the American West, in all its majestic beauty, and the people who live in it.
Stoecklein became a photographer by accident, after discovering that he had been lucky enough to be given a low draft lottery number during the Vietnam War. A chance meeting in a Colorado bar with a waiter who took pictures on the side resulted in a move to Sun Valley, Idaho, where for the next several years he took ski pictures, most of which did not turn out. Due to dyslexia, he confused the setting for the light meter on his Nikon F with the film reminder dial on the rear of the camera. "It was a tough year; I took all my snow pictures at the same exposure setting. The wrong one!"
But he insisted on teaching himself about light. He professes to be able to determine the exact exposure simply by looking at the scene. His trial and error method, which he learned from the little piece of paper that came with the film, is now taught in many photography schools as "the basic daylight exposure system." "The relationship of the sun to the earth doesn't change," he notes.
David Stocklein
Stoecklein also taught himself how to use every camera, from a 35mm to an 8x10. As an advertising photographer he is in constant demand, but it is his personal projects that drive his work. "I'm booked up for the next five years just on my personal work, which I hardly have time to get to, because advertising jobs get in the way."
Living in Ketchum, Idaho, right next to Sun Valley, Dave is in the epicenter of not only a prime vacation playground, but also in ranching country. His two-mile spread on the other side of the mountain to the north has become a gigantic outdoor studio for his photographs of cowboys and cowgirls. He uses his next-door neighbors as models, and can rustle up a herd of horses or cattle at the drop of a ten-gallon hat.
His friend Jack Goddard, who owns a neighboring ranch, has known Dave since he was a young, struggling photographer. Goddard unwittingly became the first of many "models" for him and has watched as Dave set out to chronicle the lives of people like him. "He's the real deal. He has committed his life to be as much of a cowboy as I have ever seen."
Goddard recalls Dave talking to him about his first "Ranchero" ride, which is an annual event attended by a very exclusive list of CEOs, cabinet members, ranchers and even ex-presidents (Ronald Reagan was a Ranchero). The group, numbering 550, assembles from around the country to spend a week on horseback and carouse in the way only real cowboys can. "I found out that Dave was a king among the Rancheros. In the rodeo he entered every event. He's not afraid to make a fool of himself. He gets everyone's respect."
David Stocklein
Because Stoecklein considers himself to be a professional, he insists that his neighbors and friends who pose for his pictures be paid. Several years ago one of his subjects told him after a shoot on a ranch in Texas, "You know, Dave, it's really important what you are doing and I'm really proud to be part of it. You're preserving my family, my friends, and our lives and we really appreciate it and you're doing it on film, and doing it right." Driving home that night, he began to think about what his friend had said, and thought, "Whoa! I didn't realize they were watching me, and that they cared, and I realized I had better do it right. And then I thought, well maybe what I am doing has a higher purpose. It's not just financial or about Dave getting all excited by getting a great picture of a horse running."
Stoecklein has turned himself into a one-man industry. He has published 35 coffee-table books, selling half a million of them, as well as a million calendars, and he licenses his photographs for everything from t-shirts to bedspreads. His gallery in Ketchum sells fine-art reproductions of his photographs to galleries, museums and private collectors around the world. The young women who work in his offices are all working cowgirls, who rodeo on weekends and pose for David's camera. "It means something to other people, so maybe I should concentrate on this work," Dave says. "My goal in life is to document the West, every single aspect of it, while I am here. I don't ever plan on quitting, to the day I die."
His wife Mary and three sons, Drew, Taylor and Colby, share both his house in Ketchum and his ranch in Mackey, Idaho. According to his friend Jack Goddard, "Dave's a real family man. He keeps his work and family in balance. The kids are just super, very polite and real achievers. He holds fundamental values."
"I'm so addicted to the visual image. I will go and do a movie poster for 30,000 bucks, and then turn right around and do a magazine job for $300," says Stoecklein. "I just love taking pictures! Nothing makes me feel better."