It all started with a glass of champagne — sparkling white wine for those who will argue that champagne can only be produced in that region of France. The Domaine Chandon vineyard in Napa Valley, California, is known for its "champagnes" and as my wife and I live less than an hour away, we sometimes make our way up there. On a relaxing Sunday afternoon, glass of champagne in hand, sun beating down, I suddenly noticed some buildings on the other side of the vineyard perimeter. Curious, as ever, the wine tasting was cut short and I drove out to explore. I soon realized that The Veterans Home of California-Yountville Hospital was adjacent to the vineyard. I had passed the sign for it many times but had never really absorbed its presence. Now I was suddenly eager to find out more.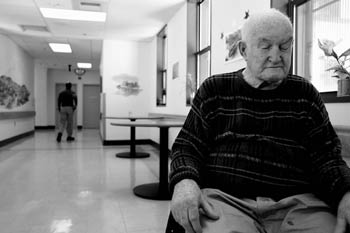 YOUNTVILLE, Calif.: Now mostly blind, this former Army sergeant played down his World War II heroics despite being the only person to help a Japanese soldier suffering from radiation poisoning as a result of atomic explosions.
Mike Fox
The Vet's Hospital campus is a big place, beautifully maintained, and nestled into the side of some of Napa's vineyards. As I drove around for the first time, I was intrigued to see seniors getting around at quite high speed on electronic wheelchairs, flying the Stars and Stripes as they zipped by. Others were getting along at a somewhat slower pace with walkers and some, sitting outside the medical center, were drawing oxygen from tanks that they wheeled around with them.
I was immediately struck by an appreciation that all these veterans were from World War II, Korea and Vietnam. Current news was focusing on veterans from the conflict in Iraq, wounded soldiers coming home to rehabilitate and, in many cases, learn how to adapt to artificial limbs. It seemed too easy for our veterans to quickly become forgotten – they serve their time in the military with honor, dignity and, often, heroism, but after the news has moved on, the medals have been handed out, and the parades have been swept up, what happens to them? That is what I wanted to find out.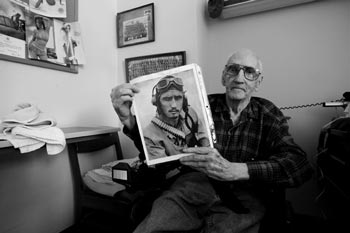 YOUNTVILLE, Calif.: When speech is impaired, sometimes all it takes is a photograph. This former U.S. Navy pilot shows off a photograph of himself during World War II.
Mike Fox
The first port of call was the Office of Veteran's Affairs in Sacramento. After a number of telephone calls and e-mails, I finally received a call back from a very helpful chap who wanted to know why I wanted to spend time at the Veteran's Hospital in Yountville. After I explained my thoughts and perspective, he put me in touch with the public information officer at Yountville and shortly thereafter I made my first visit to the hospital.
As I wasn't a former U.S. military serviceman, I had to be escorted everywhere I went. At first I thought that this would be a challenge but the PIO (Public Information Officer) could not have been more helpful. Jodi opened doors for me that I didn't even realize were there. She explained the extent of care that goes on at the hospital and helped me understand the potential scope of a story. I also quickly realized that one visit to the Home was going to be far from sufficient so I turned my first visit into more of a reconnaissance and arranged for a day to return.
YOUNTVILLE, Calif.: Many Bay Area war veterans do not live in homes. Charles, a Vietnam vet who lives on the streets of San Francisco, is seen here attending an annual event that supports veterans' welfare. He will get a new sleeping bag, new clothes and new shoes to take back to the streets when he leaves.
Mike Fox
This has now been going on for nearly a year and I have met and photographed veterans who served in all branches of the military who have come to the hospital to enjoy being cared for and remaining part of a military-style community. Passing a veteran in a corridor of the medical center, thinking he was asleep, I was startled to suddenly hear him say, "I'm no hero." I stopped, switched on my audio recorder and asked him what he meant. As I often found, many former service people are inclined to tone down the part they played when they were on active duty. But a few inquiring questions can quickly reveal a less modest personality. This veteran had been an army sergeant serving in Japan in World War II, after the U.S. dropped atomic bombs. He helped rebuild three hospitals and personally ensured that a Japanese soldier, suffering seriously from radiation sickness, received medical help in one of those hospitals. The veteran was now mostly blind and confined to a wheelchair.
Another veteran in a hospital room could not talk very much but held up a picture of himself as a U.S. Navy pilot. In the bed next to him was another Navy pilot who allegedly shot down 28 enemy aircraft and now had to deal with the aftereffects of a stroke, paralysis down the left side of his body.
At an annual event that I was invited to attend, veterans from throughout the Bay Area are eligible to get together in a large outdoor area, to be given clothes, shoes, medical treatment, social services, a haircut, hot food, entertainment and camaraderie. These veterans do not need to be residents at a vet's hospital and many will leave this gathering to return to living on the streets.
YOUNTVILLE, Calif.: Some war veterans arrive by choice. Others are brought to the hospital by families that have since forgotten them. There is no claim of being lonely, but the visuals suggest otherwise.
Mike Fox
More and more frequently, I have been disappointed to hear of younger photographers taking an approach that can be described as a "drive-by shooting," getting in, getting the shot, and getting out, with little thought given to developing an on-going relationship which would allow a deeper and more thorough story over time. At the veteran's home, without establishing a relationship with the PIO, getting to know many of the veterans themselves and being willing to turn up at some events at very short notice, I would never have been offered opportunities to take more meaningful, more significant photographs as time went by.
It is sad to observe the cycle of veterans coming in to the hospital and leaving it. Whereas a veteran can leave at anytime, many only leave when they pass away. Some veterans came to the home out of choice; others were brought by family that has since forgotten them. Many live out their days recalling their military service, a time that they were living in a style that they identify with respect and honor and a time when they were the heroes on the front pages of newspapers and magazines. To be given the opportunity and the access to photograph these forgotten heroes is a rare privilege.
[More of Mike Fox's work on this project, as well as some other stories, can be seen on his Web site (including a slideshow of some of the veterans' pictures set to music) and at www.photojournale.com. Write to him at mikefoxphotojournalist.com.]