---
EDITOR'S NOTE: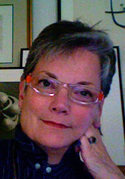 In December we feature two Dispatches: The first by Erin Trieb on Kinky Friedman's spirited run for governor of Texas; the second, by Brent Stirton, covers a small portion of his work on AIDS for the Global Business Coalition Against AIDS/Getty Images.
Kinky Friedman is a man of many talents. Besides being a writer of some renown, he's probably best know in the States for his songs of 30 years ago. Like others, I will mention a couple titles of his songs: "Ride 'Em Jewboy" and "They Ain't Makin' Jews Like Jesus Anymore." But unlike most, I have actually listened to them. The first is both a lament about the Holocaust and a tribute to the victims. He asks, "How long will you be driven relentlessly around the world?" but says, "Anything worth crying can be smiled." In "They Ain't Makin'...," as in his stories, the narrator is a fictional character named Kinky Friedman, who in this case, confronts a cursing, drunk, racist, anti-Semite in a bar who loudly berates African-Americans and all immigrants. After he tells Kinky to go back to Russia or New York, Kinky does not turn the other cheek but belts the "ethno-centric racist" right between the eyes.
In the interest of full-disclosure, I need to say here that as a resident of Texas, I voted for the Kinkster. He had good programs for the environment and other areas but lost the race for many reasons. Not having enough votes being one of them.
Erin Trieb chose to step outside the current digital color, automatic camera culture and worked the Friedman campaign with black-and-white film. This is a case of knowing your subject and figuring out the best way to render the message.
Brent Stirton has been covering AIDS in China, India, South Africa and the Ukraine for three years. Four images displayed here are emblematic of his work.
The Digital Journalist continues to publish many stories about the HIV/AIDS crisis (see the Steve Simon feature in the November 2006 issue) because each is different but agonizingly the same and all are important. Any story about this disease contains at least one of the following: racial prejudice, societal homophobia, fear, ignorance and too many orphans.
Stirton is rightly outraged at the various governments' lackluster policies and their denial that there is a 'problem.' He compares his photographic work covering international conflicts to that of covering the internationally growing spread of AIDS and finds the former pales beside the devastation of the disease.
There is no cure for AIDS and in the countries in which Stirton works AIDS is always a death sentence unless we help.
Marianne Fulton
Dispatches Editor
mfulton@dvnetwork.net
---