---
EDITOR'S NOTE: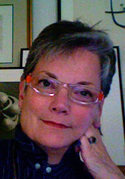 This month our dispatches come from Jeremy Sutton-Hibbert exploring cell phones in Tokyo and Carsten Snejbjerg reporting from Greece about the August wildfires.
The cell phone/mobile phenomenon in Japan can be seen everywhere in Tokyo. One good reason for this is their superior models. Japanese mobiles come in a multitude of designs with like number of functions: the camera application has a huge capacity and sharpness, GPS, and moreover they are integrated into the larger business culture. Often used for purchases instead of credit cards they are referred to as wallet phones.
All of this was noted as remarkable several years ago while the American market lagged—and still lags—behind. Anyone who travels knows that Europe is far ahead of the States and Japan leads the way.
Jeremy Sutton-Hibbert considers this explosion and even succumbs in a weak moment and wants to join in. Perhaps he should—the phone in his portrait has clearly seen better days.
While things are booming in Japan, the August fires have decimated southern Greece. On August 25 BBC Radio reported that there were an estimated 170 wildfires in the south where they razed dozens of villages. No rain had fallen since April; the humidity was also far below normal and the landscape was parched.
The winds spread these fires very fast. The Greek government was quickly overwhelmed by events and sought aid. The U.S. sent funds to battle the moving blazes and the European Union sent firefighters, funds, equipment to fight with and a massive loan for rebuilding.
The fires were especially devastating in the Peloponnese peninsula. The archaeological site of ancient Olympia was threatened by fires very close by. The fires were unprecedented and their economic and environmental toll has yet to be determined.
NASA's Earth-monitoring Aqua satellite captured this dramatic shot of the deadly fires in Greece that have claimed an estimated 60 lives. Smoke clouds drift across southern Greece and into the Mediterranean. Fires burning actively are outlined with red boxes. Photographed on Aug. 28, 2007.
Marianne Fulton
Dispatches Editor
fultonaustin@yahoo.com
---