Henry Froehlich was a very close friend for the past 20 years and rarely did a week go by without us talking to each other. The first time I became aware of Henry was when I received a phone call from Mamiya in the mid '80s. I needed a dioptar correction for my Mamiya RZ 6x7 eyepiece and ordered it through my usual channels, Samy's Camera in Los Angeles. Henry, who was then the president of Mamiya, told me: "I was just walking through our shop and noticed an order with your name on it." He proposed we get together in New York and within a week Françoise and I were having dinner with Henry and his wife Marian in Larchmont. This was the beginning of a very special friendship, which only became closer with time.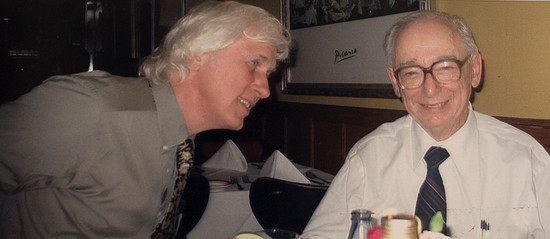 © Douglas Kirkland
We discussed everything from politics to evolving photo technology, which we both loved. In the summer, he came to visit us while we were in Vermont on vacation with our family and we started talking about his early years in Germany. I was fascinated and suggested he should write about his life but he didn't think anyone would be interested. I kept asking more questions and, eventually, this led to him writing his memoirs as installments called "Letters to Douglas." These were vivid, well-written accounts of his life and times in Germany and later on in America.
Even though he had the reputation for being very tough in business, he was extremely generous with his friends and family. Whether we discussed a technical idea or a new restaurant, Henry would pull out a little piece of paper and make hieroglyphic notes and always respond to any suggestions.
There was never a time when we were in New York that we didn't see the Froehlichs, having dinner with Henry and his wife Marian, Grace Rothstein and other friends and family. As his grandson Max became interested in photography, he brought him along one night and sat him right beside me so I could talk to him. Meanwhile, Max's mother (Henry and Marian's daughter) Carol sang Happy Birthday in her beautiful coloratura voice, prompting the waiters to bring a cake even though it was not my birthday!
This past October when I called Henry to chat he answered his cell phone as he was going down the Alba River from Prague to Dresden. Later we were amazed that he remembered my gallery opening in Soho with flowers. What a gentleman!
Recently, we saw Henry's long-time partner, Jan Lederman, at PMA. He had arrived at midnight for an 8 a.m. meeting that day. Why so early? Because Henry had set it up that way a couple of weeks earlier "to get a jump on the day"!
His wife Marian likes to reminisce about how they started Konica in the early '50s: "We were young, I was 26 and Henry 30. We had no money; I had some saving stamps from the war and cashed them. That was my contribution to Henry's investment when we started the business. Henry, with his typical generosity, drew papers that had us equal partners. We worked from a small office in a walk-up in Germantown in Philadelphia and the rest is history. Henry was always ahead of the curve, he had this sixth sense about him; he was a remarkable guy. Right now he is still following me around and I need him to tell me what to do. Patience, forgiveness and optimism sum up some of Henry's qualities and I have those words up on my refrigerator."
Henry's memorial service was a true tribute to the man – warm, personal, intimate, with heartfelt sincerity and simplicity, as was the gathering at his daughter Carol's afterward.
Now that he is no longer with us, I feel a great piece of me is lost and I grieve. We all grieve.