It really was a lovely funeral.
On an appropriately picture perfect early summer day Cornell Capa was buried beside his wife, mother, and brother in the Friends Meeting Burial Ground in Amawalk, New York. For most of the mourners present, I think, a feeling of relief overshadowed the grief, relief that his long and debilitating suffering from Parkinson's disease was finally over, and that he was at last reunited with his family in this wonderfully peaceful setting.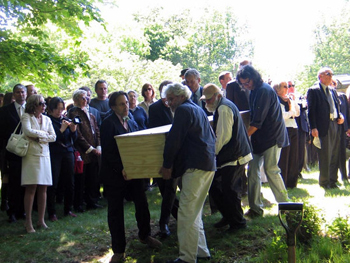 © Peter Howe
Cornell Capa's coffin is carried to the gravesite in the Friends Meeting Burial Ground in Amawalk, New York. The pallbearers are left to right: Phil Block and Robert Pledge (front); Buzz Hartshorn and Micha Bar Am (middle); Tony Millbank and John Chao (rear).
Peacefulness was not a quality you readily associated with Cornell. His presence, like his achievements, was larger than life. As his simple plywood coffin was being lowered into the ground it occurred to me, not for the first time, that I never met anyone like him. In the way that most people remind you of someone else, Cornell only reminded you of Cornell. It also occurred to me, after reading several of the obituaries published since his death on May 23, that if Cornell was the quiet one of the two brothers, Robert Capa must have been a hell-raiser of epic proportions. In the gathering at the unadorned Meeting House after the interment, friends and family recalled the man who accomplished so much and yet for most of his life remained the younger brother of the most famous war photographer who ever lived.
© Peter Howe
Photographer Marc Riboud, a close friend of Cornell Capa, watches the interment ceremony.
Cornell's motivation for starting the International Center of Photography, or the International Fund for Concerned Photography as it was initially known, was to keep the flame of Robert's memory alive and to provide a home for his archive. That it survived its early years was a miracle that can be attributed to his dogged determination and a remarkable ability to ignore anything that didn't fit into his view of the way things should be. Ronald Cooper, the first treasurer of the ICP, recalled the many occasions when it looked as if they wouldn't make payroll, and told the story of going downtown in a cab with Cornell, turning to him and saying, "Cornell, we're bankrupt." To which Cornell replied, "What's bankrupt?" Thereafter he always introduced Cooper as, "This is my treasurer who tells me we're bankrupt."
As well as providing a secure place for his brother's work, Cornell also wanted to provide a meeting place where photographers could congregate, discuss the issues of the day affecting the profession, or just hang out. He was an intensely loyal person as I was to find out during one of the most difficult times of my career. I don't know if you've ever been fired, but it's not the most pleasant experience, and has only one advantage – you really find out who your friends are. About two weeks after I was fired from Life magazine he called and invited me to get together with him in his office, at the end of which meeting he turned to me and said, "Mi casa es su casa." There is a unique charm to Spanish spoken with a Hungarian accent that only enhanced the generosity of the gesture.
© John Chao
Panoramic view of Cornell Capa's interment service at the Friends Meeting Burial Ground in Amawalk, New York.
If his house was your house he nevertheless left you in no doubt that it was ultimately his house. It survived for many years solely because of the sheer force of his personality. In a memorable speech at the Meeting House gathering his successor, Buzz Hartshorn, said that Cornell would have made the ICP a for-profit institution had he known in advance that a not-for-profit meant he would have to have a Board of Trustees, the views of whom he would have to at least acknowledge. Indeed, handing over the reins to Buzz was one of the hardest parts of his career, and yet he did it with grace, never questioning the actions that Buzz and the Board took to make the museum more mainstream. But it was difficult for him. I had lunch with him and Howard Chapnick shortly after he acquired the title of Founding Director Emeritus. Sitting around the table he looked at us and suddenly exploded, "Look at us. We're a bunch of formers. The former head of Black Star, the former picture editor of Life magazine, and the former director of the ICP!" But it was after the sale of the museum's mansion on 94th Street, a move he opposed, that he finally realized how irreversible the changes were.
© Petr Tausk / courtesy ICP
He was one of those rare people, and I've only met a couple in my life, that had no interest whatsoever in material possessions. That isn't to say that he had no interest in money – he knew how important that commodity was to accomplish all that he needed to do, and would bully, charm and coerce anyone who he thought had any to spare. But his own needs were modest. Buzz said that he was the only man he ever met who had a wrinkled permanent press shirt, and whose one and only tie was like a road map of the meals he ate when he had to wear one.
There was much talk at the Meeting House about the endless numbers of weddings and bar mitzvahs that he photographed for friends and colleagues, even when he had achieved his own fame as a Life photographer. However, very little was said about his photography for that magazine and as a member of Magnum. If you go to the Magnum Web site you will see a slide show of his work that is the equal of any produced for the publication during the same period. His coverage of John F. Kennedy's presidential campaign was the subject of a book ("JFK for President," published by Steidl in 2004) and an exhibition at ICP, and is as good as any campaign photography that has ever been done, and considerably better than most. The reason, I think, that his photography is so often undervalued is because it is overshadowed by two legends –his brother's, and his own. In this respect he is the victim of his own success. His achievement in establishing what is one of the finest venues for photography in the world tends to dwarf his achievements as a photographer in many people's minds, which is a shame.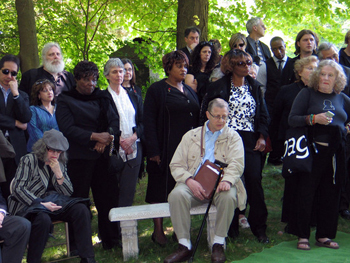 © Peter Howe
Cornell Capa's three West Indian caregivers were among the mourners watching the interment service.
At the end of his very funny tribute to Cornell, Buzz Hartshorn told the assembled company Cornell's favorite joke. It's the recipe for Hungarian chicken soup – first steal a chicken! Cornell Capa metaphorically stole many chickens to help photography and photographers, and for all he accomplished with them on our behalf we will always owe him an immense debt of gratitude. But for me the most moving statement about him came not from a photographer, a curator or a board member, but from one of the three caregivers who attended the funeral. These women were with him 24 hours a day, and were visibly moved by his death. One of them said in a soft West Indian accent, "Mr. Capa made you look inside yourself and find things you didn't even know were there."
Well done, Cornell. If someone says something half as profound and touching as that at my funeral I will rest knowing that I have lived a life worth living.