Elsewhere in this issue, you will see much about the Inauguration of President Barack Hussein Obama on the front steps of the nation's Capitol on January 20th. Our editor/publisher Dirck Halstead nearly froze his toes off in D.C. while those of us who didn't go put our feet up and watched the ceremony from our homes. Not being there to see it live didn't stop me or anyone else from getting in on the fun. I talked to a couple of friends in Washington who walked toward the Capitol, but decided instead to find a TV for a better view. No matter where people were, the mood was jubilant and infectious and it resounded the world over.
Members of the photo community were there in droves, shivering en masse in their appointed catbird seats in photographer's pools positioned around the podium. Like everyone else who did not attend, I was glued to the tube at home with the live feed going on my computer as well. I could not settle on any one TV station but surfed back and forth between C-Span, CNN, MSNBC, FOX and wherever else it was broadcast.
Aside from the usual cast of political characters, I kept looking for people I knew in the crowd, but had to wait to find them in David Bergman's now-historic Gigapan panoramic photo. David is a graduate of the Platypus Workshops, and he has become instantly famous over his incredible Inauguration image. By January 25th, the photo had been seen by over 1,000,000 viewers. Read about how he created the consolidated panorama of 220 images that contains a staggering 1,474 megapixels. Click on the image below to go to the interactive version, where you can zoom to recognize faces in the crowd and even see people standing on the buildings in the far distant background.
To the upper right of Obama on the podium in the shot, at about 2 o'clock and just above the stairs, you will see Dirck Halstead behind his camera and standing in front of assisting Joan Gramatte in orange parka. Try to find them in the Gigapan image above. Here's what they look like.
Witnessing Obama's swearing-in was a mass communications event of historic proportions – 38 million simultaneous viewers watched the Inauguration on U.S. TV, and Wikipedia stated an estimated 200 million people would be watching worldwide. Somehow that TV number seems too low, considering 2.5 billion people reportedly watched Princess Di's funeral across the globe in 1997 (BBC). However, the 200 million figure is not counting online viewership. MSNBC had 80 million page views by 1 p.m. that day. Facebook invited and confirmed 1.2 million viewers to watch CNN online, which reported 8.5 million TV viewers. CNN also had 21.3 million live video streams going at the moment of the Inauguration and 136 million page views by mid-afternoon. Still, these are U.S. figures only, and worldwide viewership numbers, as of this writing, are unavailable.
The still photos that resulted are everywhere and wonderful to see, and we've received a steady stream of links about Inauguration Day. One of my favorites is from The Boston Globe. The black spots around the Obelisk below are in fact people in this partial image of an enormous APPhoto/GeoEye Satellite photo that is included in the feature. Click to view it in its entirety along with other images in The Big Picture, a format we like so much that we've recently adopted it for our own image galleries.
The sharing of Inaugural photos all over the Web is abundant and, to me, very exciting. There are blogs and Flickr sites and e-mails and links to links to links to links, all offering themselves to be shared. Traditional photojournalists may find all this sharing even of low res images to be a threat to copyright concerns, but if they don't want to share their own photos, they don't have to. Many do decide to share, and it seems to foster intimacy and community – just the sort of thing for which Obama has already become a symbol. Change of every kind is certainly upon us.
One of the more personal and enchanting online photo shares that you can get lost exploring was sent to me by videographer Mike Bruchas. The following labyrinth of photo delights belongs to photojournalist Sam Meyer, who posts his work under the name of Vidiot. He has several sites, two of which are blogs called Useless Beauty and telescreen.org. Among many other informative things, Vidiot posted a photo showing where David Bergman was set up for the Gigapan panoramic shot shown above. Be sure to see Vidiot's shots of the Inaugural dress rehearsal. I started out looking at his Flickr Photostream of Inaugural photos presented below. To see it, click on Vidiot's shot of Bush's helicopter leaving the Capitol, an image that for me has a particularly "je ne sais quoi" kind of charm.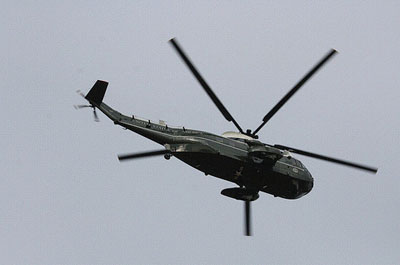 There are many other Inauguration-related photos and articles to be found at the tip of your fingers from Google and other search engines. For instance, The Wall Street Journal published an interactive graphic piece on Inaugural Bibles that is really interesting. Last but not least of the links to be referenced here are front pages from hundreds of newspapers from all over the world.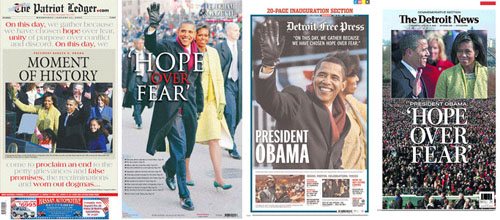 In assessing the Inauguration, Samuel Johnson's well-known quote about a second marriage comes to mind. I think we've witnessed what Johnson called "a triumph of hope over experience." Yes, we have!