Since moving to China three years ago it has amazed me how fast things happen here. China's economic miracle and its rapid growth have transformed the country day by day with new streets, new buildings and even new cities appearing almost overnight. Because of this, when the current economic crisis hit nobody really imagined how deep the impact would be.
© Bernardo De Niz/WpN
Migrant workers who recently lost their jobs wait for compensation outside of factories in Canton, China, on Nov. 26, 2008. China is facing a difficult employment situation in 2009, as the global financial crisis impacts the country's economy.
Walking through the quiet streets in one of Shenzhen's industrial zones was really bizarre. This is an area in Southern China that until recently was a hub for industrial and economic activity. Now it felt like I was walking in a ghost town. I was searching for lines of unemployed people on the streets, people waiting for jobs with handwritten looking-for-work notices. Instead I found empty streets with hundreds of closed factories. With no people around, I was worried about how I could capture the human face of the crisis.
But over the next few days, following some leads, I came across groups of laid-off migrant workers waiting outside factory gates. Some of these people had been waiting for months, wondering if they could either get their jobs back or receive some kind of retrenchment compensation. There was a sense of desperation in the air.
© Bernardo De Niz/WpN
Migrant workers who have recently lost their jobs return to their hometowns with suitcases, in China's southern region of Canton, Nov. 26, 2008. The unemployment rate is at its highest level in five years, with an estimated 20 million migrant workers reportedly out of work.
With the world's economy short of cash to buy products from Chinese factories, they have had to slow production and, in some cases, come to a full stop. The massive army of employees that populated the factories are now forced back home to far-flung areas of rural China, where prospects of finding a job are even scarcer than in urban areas.
The Communist Party, in an effort to protect migrant laborers, created a new labor law, effective Jan. 1, 2008. The new regulations' intent is to diminish the exploitation of workers, especially migrants. Indeed, the protections offered have been compared to those of European countries and easily surpass those of the U.S., which emphasize flexibility in labor rather than protectionism.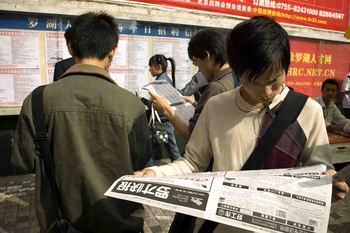 © Bernardo De Niz/WpN
Unemployed job seekers look for jobs in newspapers and on notice boards in China's southern city of Shenzhen, Nov. 26, 2008. According to the Ministry of Human Resources and Social Security, China's urban registered unemployment rate climbed to 4.2 percent in December 2008.
Their response so far is dwarfed by the prospect of massive unemployment and the possible unrest it could bring. The hopes of millions for upward mobility in life in mainland China has been dashed.
Working in China has never been easy. In my own experience, it is probably the most difficult place I have ever worked. This is because it doesn't matter whether the picture you want to take is simple or not; there will always be someone who doesn't allow you to take it. For this reason, I sometimes prefer to work with a small point-and-shoot camera like the Canon G9. It's inconspicuous and the quality is sufficient.
In addition, the quality of light here is always very difficult to work with – it's either too bright, too grey or too dim. It's very rare to have the perfect light. But in Shenzhen, when I was shooting at the train station one night, I realized that the green-tinged light perfectly highlighted what I wanted to capture: the economic crisis written on the faces of China's new unemployed.