Over the last year, reports have been that the situation in Afghanistan was getting worse. When I hear that I say to myself, "…getting? It already was worse." From my first visit to Afghanistan in 2006, I felt that the situation had already started its downward spiral; however, all eyes and most journalistic resources were elsewhere. I returned in 2007 and few publications were interested in Afghanistan. It was like a major war was on and nobody was really interested. I went again in 2008 and found myself in the midst of one of the most violent times the country had seen since 2001. It was the peak of what many call the fighting season, a time beginning in the spring when the weather improves and the fighting picks up over the summer.
© Louie Palu/ZUMA Press
A soldier from the Afghan National Army (ANA) searches a civilian in a compound suspected of harboring insurgents during an operation in the Pashmul area in Zhari District located west of Kandahar City, Afghanistan. Due to the nature of the insurgency, soldiers can't tell the difference between combatants and non-combatants unless they are firing upon them.
I made video a part of my coverage of the war in 2007 when I borrowed a video camera from a colleague. I really felt that good audio of combat trumps stills in capturing the reality of what a battle feels like. I have little room for gear when working on the front line – no tapes, no mics. I carry two still cameras with one lens each – a 50mm and 17-35mm, a lot of memory cards, a small Olympus (USB) audio recorder, first-aid pack, water, food and nothing else; laptop was back at base. Of course my body armor and helmet combined to weigh over 40 pounds, which really made things hard to take in temperatures over 100 F (over 38 C). You must wear long pants and long-sleeve shirts for when you hit the ground under fire, or end up with scrapes and cuts on your knees and elbows – not good in a place where infections come quickly. You must be in very good shape. Rehydration via IV happened a lot to everyone including myself due to heat exhaustion.
© Louie Palu/ZUMA Press
Canadian soldiers in a firefight with insurgents in the Pashmul area of the Zhari District, Kandahar province, Afghanistan, July 18, 2008.
I did all my work as far into the most violent areas as possible. I traveled throughout Southern Afghanistan from June to September. For video I used the Panasonic SDR-150 due to its compact size; it takes SD cards that are not the best for visual quality, but the sound is very good and I was working with a shoestring budget with minimal guarantees from publications. My agency, ZUMA, supported and backed me up with everything they could. My editors Scott and Rory are incredible to work with.
I research all projects heavily. Covering war is over 50 percent logistics, meaning you really have to know where you want to be to cover the fighting relative to what your story is. I started in Kandahar province in June and made my way to Helmand at a time when most journalists had left for Kabul or other stories after an offensive north of the city. It seemed like I was the only journalist left. Within a few days of my arrival at a Forward Operating Base deep in Kandahar province the insurgents mounted a sustained and violent campaign.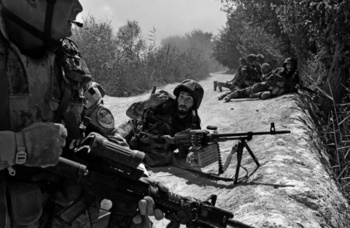 © Louie Palu/ZUMA Press
During a battle with insurgents a shell-shocked and frightened Afghan soldier asks a Canadian advisor how they could ever defeat the Taliban while under fire and pinned down near what soldiers nicknamed "Taliban Road" in Zhari District, Afghanistan. This area is located within several kilometers of what is believed to be the birthplace of the Taliban lead by Mullah Mohammed Omar.
First it was IEDs. Every morning while asleep in my tent, BOOM! An explosion came from just down the road. It was like the alarm clock for the unit I was with. Next day, BOOM! … wake up, get dressed, gear up and get into the vehicles. Then it was ambushes on Afghans from police to civilian convoys; that alarm clock now was loud thuds from rocket propelled grenades and then automatic gunfire. Wake up, get dressed, gear up … Crazy Afghan Groundhog Day [reference to the American movie, "Groundhog Day."] One day I went out to shoot the aftermath of an IED strike and the asphalt was so hot from the sun I got blisters on my feet through the soles of my boots.
It was not long before I embedded with a unit doing combat patrols where I shot a lot of video. I want to eliminate the romance and humor of war coverage right here. This may sound exciting but it is not. I saw things that have changed me forever. Some memories never go away. My biggest fear was not being shot, but stepping on a land mine and having my legs blown off. This area was notorious for land mines and booby traps, especially ones newly set by insurgents and they don't care if you are a journalist or a soldier.
© Louie Palu/ZUMA Press
While under fire from insurgents Afghan soldiers take cover in a ditch while they move a comrade to safety after he was hit in the face by shrapnel from rocket fire during a battle in the Makuan area of the Zhari District, Kandahar province, Afghanistan.
I do believe in having separate video and still cameras; they are two different mediums and modes of thinking. Frame grabs for serious hi-resolution documentary still work just doesn't cut it (for now). Every day became this difficult decision: video or stills? I wish it were one or the other; some days I did both, some days I did only one. It was hard to choose. Some days I got a lot, some days I got nothing. Some days there was so much going on I focused solely on staying alive. As per Gilles Peress' advice to Anthony Loyd in his book "My War Gone By, I Miss It So," sometimes you have good days, sometimes you have bad days; just keep working.
One day a report came in that two Afghan police had been kidnapped. The unit I was embedded with made a plan to rescue them. I was with the company launching the direct assault on the compound they supposedly were in. It was getting dark, with only a couple of hours of light left. Within minutes the initial cracks of gunfire signaled the beginning of the battle, as soldiers yelled "CONTACT!"
The area was full of tall fields of grass and grapevines, a very confusing area to be in during a firefight. The soldiers moved up through the fields. Gunfire rang out, echoing from all directions. We came to a river; we ran through it and took cover behind a small hill. The gunfire got louder and explosions from rockets got closer. Simon, a Captain, began moving forward organizing his troops. All I heard after that was a wail from an artillery shell, then another; we were under heavy weapons fire, I thought FUCK! Suddenly, all I knew was there was a loud explosion and I was lying on the ground in a very dark cloud of dust. My ears were ringing. I reached down to first feel my balls and then my legs to make sure I was not hit.
© Louie Palu/ZUMA Press
An Afghan National Police (ANP) officer unties the bound feet of a comrade who was executed by the Taliban west of Kandahar City, Afghanistan. The 19-year-old police officer was abducted by insurgents along with a fellow officer, paraded through a local village, bound, shot in the face and hung. Insurgents terrorize the countryside, committing atrocities and murder as a means of intimidating Afghan civilians.
I could hear some kind of voice; it sounded like a high-pitched Mickey Mouse calling my name. I called over to Simon. I could not get up from the impact of the explosion and I was lying on a thorn bush. The dust was settling on me and I was spitting sand from my mouth. Simon had jumped into a ditch; he did so seeing a shell miss hitting my chest by a couple of feet. I got on my knees. A soldier ran up a hill behind me. I shot (stills) as the battle continued. Simon climbed out of the ditch. We both ran back; the unit looked as though they saw ghosts. They recounted seeing us walk away and disappear in the explosion. By a miracle we were unscathed. Some Afghan soldiers came running from a field with a comrade. He had been hit in the face by shrapnel from a rocket. While they bandaged his face I took photos, then they ran off.
The light had faded and I had to stay with the unit I was embedded with, regardless of whether I could shoot or not. They went forward through thick grass. The soldiers were about to round a corner when in the near darkness we were confronted by a terrified white horse bucking wildly and tied to a post. It blocked the path. Simon asked if I could calm the horse down so we could all pass as they watched for insurgents. I grabbed the rope and began caressing his snout, talking to him, telling him to calm down. He did – this moment was surreal.
They got to the compound. There was only an old man, no police, no insurgents. All that way for this. We made our way back in the dark. I began to feel a little shock from the explosion earlier on. When I got back to the vehicle, a soldier commented that it looked like my eyes were crooked and pointed in opposite directions. I began to feel overwhelmed, exhausted and very sore all over. Denis, a medic, ordered several soldiers and myself to report to the Unit Medical Site. We were checked and force-hydrated with an IV "cocktail," as they called it. They said I was now part of the IV Club. We joked as the nurse repeatedly stabbed my arm looking for a vein.
© Louie Palu/ZUMA Press
An Afghan National Army (ANA) soldier plays a flute while others peel potatoes on the front lines in the Howz-E-Madad area a day before an attack on Taliban insurgents in the Zhari District of Afghanistan. The playing of instruments, both purchased and homemade, is common amongst Afghan soldiers who sing along to any instrument played.
The next day two bodies were found in the local village; they were the two kidnapped police. The insurgents had paraded them around the village, hung them and shot them in the face. It was too dangerous to go out. I waited at the police station and took pictures as their comrades took their remains out of the ambulance in preparation for burial. It was gruesome. One cop began to untie the feet of his friend. It was a tender moment in hell. Sadly, the summer continued like this for weeks and looking back, I am pleased with the video as much as the stills.
I did some initial editing in the field and more when I got back to Kandahar Airfield. A prominent wire service based there offered me 250 bucks for 10 combats photos (and all rights). Of course I said no. I shopped my video; a major television network said sorry, Russia invaded Georgia; they are not interested in Afghanistan right now. Ken Faught at The Toronto Star looked at the stills and picked up two photo essays and ran two great spreads with an accompanying online piece.
The Atlantic had been interested in what I was doing; they committed to a printed piece. I got back in October and we met. A spread was designed. Space in the magazine shrank, the story got pushed to another month and then killed from print. In turn, they offered something on the Web. I offered to work with one of their editors for an online package. I met with talented Senior Editor Jennie Rothenberg-Gritz and discussed ideas and concepts. I had worked with her before and really wanted her creativity and fresh view of the work to bring it all together. We decided on a slide show and a multi-chapter video piece, all together making 10 chapters. I resisted her suggestion of me narrating over the video. I am glad I listened to her; it worked really well. That's what good editors do – have great ideas for your work.
She really did an incredible job in bringing what I documented to life as a narrative. I believe in having separate editors for video as much as having them for stills. The feedback on the piece has been remarkable. I am happier with the online piece than any print spread we would have done. It really was a blessing in disguise. I am now editing a short film with the rest of my footage. Later in the year TIME and The New Yorker picked up some of my work, which was a nice bonus. I have several exhibitions of the work happening in New York, London and Toronto later this year. If things fall into place, I may be heading back to Afghanistan this summer.