The international community has been crying foul since May 2009 when it became apparent that the local Chinese government had acted on plans to tear down much of Kashgar's historic old quarter. This is a region of recent unrest.
© Ryan Pyle
A fully veiled woman walks along a lane in the old town of Kashgar, Xinjiang, China.
Local officials, always uncomfortable with direct questions, cited a danger from earthquakes and indicated that Kashgar's historic old town – which contains mainly earthen homes, some hundreds of years old – must be razed in the name of public safety. Replacing the earthen homes will be similar-style brick and steel-based structures, with a focus on stronger foundations.
Since May many local Uighurs have had to give up and move out of their homes. Some 13,000 Uighur families live in Kashgar's "maze-like alleyways" of the old quarter and questions surfaced about when the local inhabitants would be allowed to move back in to their newly rebuilt and stronger homes. Rumors swirled of a possible land grab by the Kashgar government, forcing Uighurs to vacate their old earthen homes to temporary housing on the outskirts of town and then not allowing them to move back. But that appears not to be the case. The Kashgar government may indeed have safety on their mind. As entire families have moved out of the center of Kashgar, the wrecking ball has done much damage and new homes are beginning to be rebuilt under the watchful eyes of homeowners.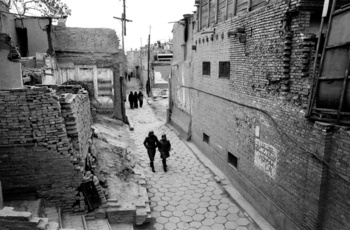 © Ryan Pyle
Women walk down a lane in an old neighborhood in Kashgar, Xinjiang, China.
But not all is well. The money offered up by the government to relocate temporarily was barely adequate but the government has mainly held up its share of the bargain: covering the costs of the bricks and steel rebar for the rebuilding of the foundation as well as the outer walls and roofs of the new homes, while homeowners are responsible for interior decorations. While many homeowners that I spoke with on a recent trip suggested that they were pleased with the outcome, the current delays in construction will mean that the Uighurs won't be in their new homes until spring at the earliest instead of before the oncoming winter, as they were promised.
New bricks and steel rebar will make up the guts of the new foundation though many homeowners are still planning on covering the exterior of their houses with similar earthen materials – so the "new" old quarter may yet have a similar feel that it did before the onslaught of bulldozers. The earthen, or mud brick, materials are essential for keeping the heat out in the summer and the cold out in the winter.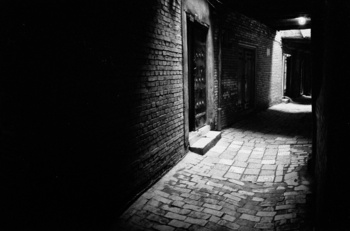 © Ryan Pyle
A door and alleyway in the old town of Kashgar, Xinjiang, China.
So, if little will actually change and the old quarter of Kashgar will be rebuilt much the same, then why go through the entire process of destroying so many homes and relocating so many people? Could all of this been done in the name of the Chinese economic stimulus?
It might be important to note that if a house is 300 years old there is a very good chance that it is already earthquake-proof. So there should be no need to tear it down and rebuild a stronger version. But the local government may have several motives at play: first and foremost officials in Kashgar view the old laneways of the old quarter to be a haven of dissidents and terrorists. Rightly or wrongly, they have wanted to reorganize and re-account for everyone and everything in the old quarter for some time. Their opportunity came with the global financial crisis, when an amount equivalent to about USD $400 million was earmarked in the November 2008 Chinese government stimulus package (a total of USD $585 billion) for the "earthquake proofing" of Kashgar; a very sly bit of Beijing pork-barrel politics. That kind of money buys a lot of bricks, workers and bulldozers. It might even line a few pockets along the way as well. When in doubt, tear it down and build it up again; at least now we can say that the same process is happening in China's far Eastern and far Western regions.