It was around 1:30PM when I walked into the room. People were dropping like flies – some threw their hands up and just couldn't take it anymore – some cried and some even fainted. It was the second to the last day of the Platypus Workshop and the students were struggling to finish their final projects for the 2 o'clock deadline. Some had been up all night, working non-stop, no food, no daylight and no break from technology. And this was after a full day of shooting, not to mention being in Las Vegas for a week, which is enough to drive anybody crazy. This is why they call it boot camp.
PHOTOGRAPH BY DIRCK HALSTEAD
Students and coaches work late into the night as they edit their final stories in the Platypus workroom at the Flamingo Hotel
It's hard to believe it's been 10 years since I experienced that same pain when I attended the 2nd Platypus Workshop in Norman, Oklahoma. A lot has changed in the video world in those 10 years. Back then we were taught on traditional video cameras – the Canon Xl1 if I remember correctly, and we edited with Final Cut Pro 1. This class was shooting with the Canon 7D DSLR camera and editing on Final Cut Pro 7. I was curious to see if and how the new tools played a part in how the participants created and delivered their stories.
Just before 4PM, it was all over. Instructor, PF Bentley who is more like a drill sergeant, had loaded all the participants' final projects on to his hard drive and it was "showtime" – or more like – a time of reckoning. One thing that immediately became apparent was that the format of the critique hadn't changed much since I took the workshop. A stool was positioned at the front of the room, waiting for each student to take his or her seat after the showing of their piece. I still remember squirming in that "hot seat" waiting for the final judgment to be made on my finished project. Platypus founder Dirck Halstead started the critique and focused his attention and remarks on if the piece had lived up to its commitment and told the story, while PF addressed the technical issues.
Dirck had asked me to be a third "judge" and I felt a bit like I was on American Idol. Critiquing the participants' work was a difficult thing for me to do, especially since I had been in that same spot – exhausted, frustrated and overwhelmed – yet as harsh as it was at times, I knew that I needed to be honest with my comments. PF and Dirck are sometimes brutally honest with their critique, yet somehow encouraging at the same time, striking a balance between harsh and gentle. Well maybe gentle isn't the right word. They deliver the news that you don't really want to hear – but you know you need to hear in order to become a better video journalist or storyteller.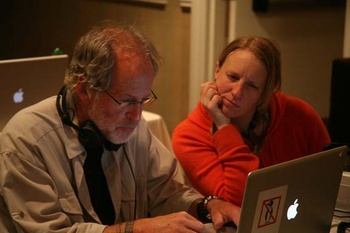 PHOTOGRAPH BY DIRCK HALSTEAD
Platypus Editing Instructor PF Bentley gives student Melanie Conner some tips on Final Cut Pro
If I had to make one distinction that separates the Platypus Workshop from so many of the other DSLR workshops that have sprung up of late, it's the workshop's emphasis on telling the story – and the story is everything. Before you even set out to start shooting your final project, you need to get your "commitment" approved by PF or Dirck. You need to present to them in a concise sentence or two what your story is about. If you can't articulate what your story is about – you 're sent back to the drawing table to refine or define what your message is. That's a pretty big distinction if you think about it because without a solid story, even the most technically proficient videos will fall short with a viewer and end up being an unmemorable piece of fluff.
That's not to say that PF and Dirck don't teach the technical aspects of video storytelling. In fact at the end of 9 days your mind is reaady to explode with all the technical information that they deliver. Dirck started off the critique by commenting to the class "Nobody said this was going to be easy". He went on to say that he is amazed that anybody gets through this at all. He's right – there's so much to learn and on so many different levels – right-brain and left-brain. This was the first class that the workshop was taught using DSLR's – one would think with most participants coming from a still photography background, that it would be an easier transition. In fact in some ways it's actually a more complex process and there's more gear to carry around – different lenses, audio capture devices and stabilization rigs.
Ultimately when speaking about storytelling, the Platypus Workshop hasn't changed much in the ten years since I took it. Good story telling never goes out of fashion , no matter what tools one chooses to use to tell their story. A good story is a good story.
PHOTOGRAPH BY DIRCK HALSTEAD
Candace Suerstedt Eckel and her daughter Mariah familiarize themselves with the Canon 7D at the Platypus Workshop in Las Vegas
Like any workshop, I wonder how many attendees will go on to embrace video in their careers. The ones, who stick with it and overcome those temporary feelings of angst and agony and continue to move forward on the learning path of motion storytelling, will be smart in doing so, as we shift from print to electronic platforms for communicating.
Ten years after graduating from the Platypus, I'm still learning as technology keeps pushing us forward. There are days when I struggle with new software that I need to learn or new cameras I need to master and occasionally I'll have a major meltdown in the editing room – tears and all. When that happens, I get up and walk away from the computer and the technology. I take a walk – I clear my head and I think about the story. Away from the computer it's a lot easier to see the big picture and with that the essence of the message or the story that I want to tell.
The tools may have changed since my days at the Platypus Workshop but the fundamentals of video journalism are pretty much the same. I'm grateful for that foundation because telling the story is what it's all about and that never goes out of style.