---
Awards and Reviews
(for which we are very grateful)
Digital Journalist's AIDS Feature
Takes Top Industry Prize


BERKELEY, CALIFORNIA (October 27, 2001): The Digital Journalist won first-place honors at the Online Journalism Awards ceremony last night in Berkeley, California. The panel of judges selected the Digital Journalist's ''20 Years - AIDS & Photography'' (June, 2001) as the best feature story produced this year by an independent website.

The contest, in its second year, is the most prestigious prize for serious journalism on the web. Sponsored by the Online News Association (ONA) and administered by the Columbia University Graduate School of Journalism (coordinators of the Pulitzer Prize), the Online Journalism Awards (OJA) competition elicited 870 entries, resulting in 66 finalists in 15 categories.

David Friend, who produced the AIDS feature (with executive producer David Snider), accepted the award on the website's behalf:

''The Digital Journalist began as two guys in a room--Dirck Halstead and David Snider--extracting favors from their photojournalist friends. Now, it's a rich, vibrant site by and for the photojournalist community. One month, it's an homage to combat photographers. The next month, like this month, 40 photographers have put up 130 pictures of the World Trade Center attacks and their aftermath, along with their own first-person stories.

''This award--for which we're extremely appreciative--is for a feature we put up this past June, on the 20th anniversary of the discovery of the AIDS virus. The award goes to the resilient subjects: the people with AIDS and HIV in these images who courageously agreed to be photographed for others to see--and understand.

''I'd like to acknowledge Dirck Halstead, who created the Digital Journalist and who gives it life each month; David Snider, the site's Rumplestiltskin, who turns raw content into gold; Graydon Carter, the editor of Vanity Fair, who gave me carte blanche to pursue this project apart from my day job at the magazine; and, most of all, I'd like to thank the 40 photographers and members of the photo community who donated their images and their wisdom [to the project]. As photographer Herb Ritts remarked, 'Let's hope we're not doing another one of these 20 years from now.' ''

The OJA jury, composed of experts in the field of Internet-delivered news, cited the Digital Journalist for ''an outstanding creative use of the medium.'' They called the AIDS story ''a great piece of journalism that could only exist online.'' Other winners included entries from BBC News Online (for general excellence/affiliated), Slate (for general excellence/independent), 360degrees.org (for creative use of the medium/independent), and Yahoo Finance Vision (for innovative presentation of information).

In his opening remarks at the two-day conference, which coincided with the awards banquet, ONA president Rich Jaroslovsky emphasized the pivotal role played by digital journalists in the current terrorist crisis. Said Jaroslovsky, senior editor at the Wall Street Journal, whose offices were devastated in the Twin Towers' collapse: ''In the aftermath of September 11, we've seen people come on line for news and information in unprecedented numbers. [The Internet is] no longer an experiment. We're no longer a project. We know how we fit into the [news] landscape.''

As a result, he observed, "People need us to have high standards.'' Jaroslovsky went on to articulate one of ONA's chief goals: to ensure that web journalists deliver content with the same level of credibility, accuracy, and fairness that governs the best of traditional news organizations.

''They're the values that make us indispensable to our [users],'' he noted. ''It is a mission worthy of all our efforts and struggles.''

Suggested Links:
''20 Years--AIDS & Photography,'' go to http://digitaljournalist.org/issue0106/visions_frameset.htm
Online Journalism Awards, go to http://www.onlinejournalismawards.org/pr-2001winners1.html
Online News Asssocation, go to http://www.journalists.org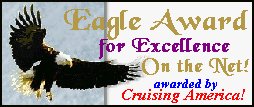 What People Are Saying

From Netsurfer Digest -
Haunting, evocative, and quintessentially professional, this photographic e-zine is designed by photojournalists for photojournalists, but all can enjoy at least the features. Not the glamor job the uninitiated might assume it to be, photojournalism has captured this century in images of spectacular impact and importance. Walk through Requiem, an exhibition of Vietnam War journalists killed in action, and view the last frame that Robert Capa snapped before stepping on a land mine. Watch Douglas MacArthur stepping ashore at the Philippines, or see the Pope in Cuba on his recent visit. Rich with RealAudio commentary, on-the-spot descriptions, and QuickTime video, this multimedia Web site holds interest for everyone.

From Editor and Publisher Interactive -
GALLERY OF GUTS AND GLORY
Dirck Halsteadís Photojournalism Web Site

by Tom Mangan

Dirck Halstead's Web site is full of the romance of photojournalism -- shooting world - changing news as it happens in distant, exotic lands. And it's full of the reality -- changing technologies, shrinking opportunities for documentary photography, and the stories of daring photojournalists slain in the pursuit of news.

From the very start of his career, Halstead, senior White House photographer for Time magazine, has been on the scene of the biggest stories of the last half-century. Halstead was 17 in the summer of 1954 when Life magazine assigned him to shoot a revolution unfolding in Guatemala. Last fall he was in Cambodia with a New York Times reporter trying to wrangle an interview with Pol Pot.

Along the way he's been to Vietnam to chronicle an American mission gone awry, and later to the White House to cover Nixon through Clinton. His Web site captures a bit of it all -- some pages have pictures he has taken, others the work of his colleagues. It's one of those places you'd like to send all budding photojournalists before they buy their first roll of film: It's a reminder that they have the chance to be there when the biggest stories break, but the site also serves as a warning that they could get killed in the process.

Halstead's site is called The Digital Journalist, reflecting his growing interest in the melding of sound, video, and still photography in the emerging new media era. While professional photographers might pore over his every insight about new video cameras and how sound adds a new dimension to photography, those outside the craft will find more engaging stuff in other segments of the site.

One of these segments is called "Requiem," based on a book devoted to the work of war photographers who never made it back from the war. Halstead offers his own reflections on the shooters he knew and the pictures they took -- like the one that Robert Capa snapped just minutes before he stepped on the landmine that killed him. Another page tells how Ollie Noonan's helicopter came under attack. He died but his film survived -- the camera had been thrown clear in the crash.

A Final, Heroic Heave?

Nobody knows if Noonan's last act was to give his camera a firm toss in the hope that his film would make it out, but it sounds like the kind of thing I'd expect from most of the photojournalists I've known.

Another equally compelling feature is a photo essay taken by Mary Fisher, a woman with AIDS who wanted to use her pictures as a tribute to the caregivers who lend comfort to the condemned. This woman, a friend of Halstead's, is not a professional photographer, but her pictures nevertheless convey the heroism and tragedy that are the AIDS experience. I couldn't shake the image of two innocent young boys, both HIV-positive, who are not likely to make it to adulthood.

Though Halstead's site celebrates photojournalism, it indicts a news industry that has become so bottom-line driven that the photo essay has become an endangered species -- particularly in the major news magazines. It seems doubtful that any readers would complain that their newspapers and magazines have too many great photos in them -- the fading of the photo essay perfected by Life magazine has been primarily a business decision.

So it's wonderful that Halstead and legions of documentary photographers like him have turned to Web as a medium of expression. But it's a shame they have so few other options.