My first trip to a movie set was in 1975. I was six years old and my mother and four aunts dragged me to Vivay, Indiana, so they could see heartthrob Richard Crenna making a television film called, "A Girl Named Sooner." That experience was probably a bit more meaningful at the time for mom and her sisters. Although it took over 30 years, I can now thank them for injecting the movie biz into my blood, because certainly it helped in leading me to my second set. Only this time it was in Malta, with director Steven Spielberg, working as his unit photographer on the movie "Munich."
Steve (Daniel Craig), Avner (Eric Bana), Carl (Ciaran Hinds), Robert (Mathieu Kassovitz), and Hans (Hans Zischler) make up the covert Israeli hit squad sent out by Prime Minister Golda Meir to assassinate the members of Black September who committed the crimes at the 1972 Munich Olympics.
Photo by Karen Ballard/Universal
I first met Steven Spielberg seven years earlier when I was a staff photographer for the Washington Times. It was a quick encounter of the usual kind -- two minutes in a hotel room in Washington, D.C., where I had been assigned to photograph him, Tom Hanks and writer Steven Ambrose during their press tour for "Saving Private Ryan." While I waited for my brief portrait session, I was struck by how good the photographs in the press kit were. They were compelling and dramatic, the work of a real pro, and gave me something to talk about with Steven. As I photographed the director I asked him about the work of a set photographer. He was clearly passionate about his appreciation of still photography and its value to the production. That meeting fueled a growing interest about doing a similar job one day, an awareness that began years earlier when I saw and appreciated Mary Ellen Mark's pictures from "Apocalypse Now," and the work of other photojournalists who had photographed on movies.
In 2001, when I began my freelance career, trying to get work as a photographer on a movie was one of my many goals. Four years later I hit the jackpot when a friend in Los Angeles told me that Spielberg was looking specifically for a photojournalist to work as a unit photographer on his upcoming film based on the aftermath of the tragic 1972 Munich Olympics. Kathleen Kennedy, his longtime producer, took a look at my work, liked it, and arranged a meeting with me in New York City. I met with her and Steven one week before the filming on location in Malta began, and although he did not remember our session in D.C., he liked my photos and offered me what would become one of the most demanding and exhilarating assignments of my life. I was blown away. To be hired by one of the world's greatest directors for my first film job was something that only happened in the movies! A longtime high school friend recently joked, "Geez, you'd think you would have started with a 'Project Green Light' production or something."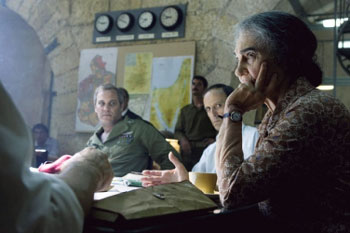 Israeli Prime Minister Golda Meir (Lynn Cohen) speaking to her cabinet's top secret "Committee X" team about her authorization of a mission to hunt down and kill the murderers who slaughtered the Israeli athletes at the 1972 Munich Olympics.
Photo by Karen Ballard/Universal
A few short days later, sometime after our first midnight lunch break on the set of "Munich," Steven felt the need to urge me forward for a better angle. With a slight nudge on the shoulder, he said, "Get in there!" At that point, a wave of relief came over me—he had meant what he said when he hired me the week before when we were first getting acquainted: "I want you to just shoot how you shoot" as a journalist. Those were key words from this master filmmaker. Yet at the same time, after being on the set for only a few hours, I quickly realized that to shoot stills for a motion picture, I would have to recalibrate how to apply one of the principal photojournalist's professional standards: If the picture isn't good enough, move closer. On a movie set this is equally true, but with one large caveat—just don't dare get in the way of anybody or anything, particularly the film camera.
Moving gracefully and unobtrusively is vital to a set photographer's success. The meaning of personal space, or "bubble," is something that I became keenly aware of that first week on Munich. Just as we photographers tiptoe through the Oval Office so as not to knock anything over, working on a movie set requires even more finesse and physical dexterity. On set, even slightly brushing the chief camera operator can cause a whole scene to be ruined. Getting in the way of the Director of Photography, Janusz Kaminski, was not a part I had any intention of playing. I don't think he and I even spoke for the first the two weeks. He is a master D.O.P. and two-time Oscar winning cinematographer for both "Schindler's List" and "Saving Private Ryan." His creativity, tenacious personality, and expertise brought a whole new meaning to the phrase 'Commander in Chief.' The brilliance he and Steven share on set made every single day one of the most visually interesting and compelling shooting atmospheres I could have ever imagined. Munich is their 10th collaboration together, and the admiration each has for the other's art, and the way they balance one another, kept everyone inspired to do their best. I never for one minute forgot where I was or who was giving me my 'crash course' in movie making.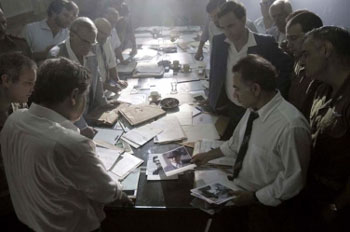 The Israeli cabinet in the film "Munich" looking over photographs of the suspected Black September operatives who were to be hunted down and killed as a result of what they did at the 1972 Olympics.
Photo by Karen Ballard/Universal
Job titles that I had previously been curious about as credits roll, like "Key Grip, Dolly Grip, Gaffer, 1st and 2nd Assistant Camera," and certainly, "Best Boy" all started making sense to me as I became more familiar with the 250 crewmembers who make up Spielberg's team. This being my first movie, EVERYTHING was new to me, and the camera crew, in particular, put up with my myriad rookie questions, such as, "Can I stand here?" The pressure was intense to balance my instincts as a photojournalist, but not to offend anyone. I was in a strange new world, a major-league commercial operation, where every shot is exactly THE shot ("lots of money, big egos," as actor Geoffrey Rush says in the movie as Ephraim, Avner's boss), and it was up to me to not blow it.
There is so much to take in on a film set. Working at least 12 hours a day (or night depending on the shooting schedule), can allow for tons of photographs to be taken, especially given the content of this movie. By the end of the first month I had already shot over 10,000 frames. Some of this is due to digital I'm sure, and I've always shot fast and a lot but this seemed beyond belief -- I still had two months to go before we wrapped. Not long after this a photo tech from Universal Studios came to visit to clear up some FTP issues and I inquired if that seemed like a lot of imagery. He said, "nah, you're about right on target." Apparently most motion picture unit photographers average about 500-700 photos a day. When it was all over, I had taken more than 26,000 frames.
Director Steven Spielberg working on the set of "Munich" while filming in Budapest, Hungary, during the summer of 2005.
Photo by Karen Ballard/Universal
So what, you ask, requires that kind of volume, and why? There are many answers, most importantly the actors, known as the 'talent.' On major motion pictures, the talent (similar to yet different from a Special Forces unit in combat), have the ultimate 'power to kill.' In this case that means any photo of them that they don't like. The pictures are dead, not to be used for anything -- publicity, movie posters, DVD covers, musical score cds, etc. Once again however, I was incredibly lucky. The six lead actors, Eric Bana (Avner), Daniel Craig (Steve), Ciaran Hinds (Carl), Mathieu Kassovitz (Robert), Hans Zischler (Hans) and Geoffrey Rush (Ephraim), were not only exceptional in their craft, they were also delightful people to work with and, in the end, killed very few photos. I had heard horror stories from different crew members about other actors and their unhappiness with still photographers getting in their 'eye line,' which is anywhere near their direct point of view to the movie camera. As I slowly got to know each of them, not unlike building a rapport with any subject, I found them to be easygoing people, who also happen to be gifted, wonderful actors. I normally didn't hang out with them off the set, but one of the most memorable nights of the movie was having dinner on top of a medieval palace in the walled city of Medina with Daniel Craig (who will be the new James Bond), Ciaran Hinds, and my best friend from Washington, D.C., who came to visit. It marked a turning point for me personally in the midst of hectic, intense days on my new job where in the process I had made friends.
Hans (Hans Zischler) in a moment of sorrow as he reveals he has had enough with the task they've been assigned.
Photo by Karen Ballard/Universal
One of the many challenges of shooting this movie was using a 'blimp,' which is a two-pound metal box with foam inside that encased my Canon Mark II, so you don't hear it firing. Thank the photo gods if you never have to use a blimp, because it's like trying to take a photo through a brick with a viewfinder. The sound team is fundamental to the success of the movie, and I soon realized that I had more to learn before I was integrated seamlessly into the movie production. If the sound crew could hear my shutter in their headphones, I had to use the blimp. If they couldn't hear the camera, usually during scenes with gunfire or bombs, they would be gracious enough to let me know, and I'd shoot without the blimp. "Be good to the sound guys and they will be good to you," was a mantra that served me well.
Learning to work around the camera crew was a similar challenge. This was a daily shot-by-shot configuration that was both delicate and sometimes difficult to maneuver, and yet that is the heart of unit photography. There's no motion picture without the movie camera. Every frame in a movie depends upon that old phrase, "lights, camera, action." Because invariably, that's the best angle, my camera often had to be in the second best possible position. In many cases, that is right next to the movie camera. I actually shot during the filming (hence the blimp) and often the various situations are tight -- small quarters, stairwells, etc. -- and sometimes there can be up to five to seven people working around the actual movie camera.
Sometimes it was impossible for me to actually shoot a scene, because there was absolutely no room for me. For example, when the meeting of Israeli officials looking over the photographs of the accused murderers takes place, the movie camera was on a crane high above this very long table, shooting with a lens of about a 14 mm. There was clearly no place for me in the space and Steven looked at me and said, "Where's your lens?" I kind of panicked but said, "I don't think I can get this, can we do a 'still' at the end?" He kindly obliged, had the actors rerun the scene and we did this on a few occasions. Again, this was confirmation to me about how important the stills were for him and that he trusted my judgment. That particular picture is a part of the press kit and has been used over and over.
Working on "Munich," with so many incredibly talented, dedicated people, both cast and crew, and especially next to Steven Spielberg, was one of the most professionally gratifying experiences in my life. The movie is destined to become a classic. It will hold its own as the years pass and stand side by side with all of the other great Spielberg films. I can only say how proud I am to have documented the ride.