---
EDITOR'S NOTE: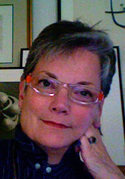 In July we present seven dispatches. Five of them were unsolicited, sent in as a result of reading my encouragement to photographers. I read everything sent in and choose a few for the column. I can be reached at the dvnetwork address on the masthead and also at mfulton2@austin.rr.com.
Photographer Lucian Read has been an embed with Kilo Company on two tours of duty in Iraq. His work in Haditha now places him in an uncomfortable position: He's gotten to know the Marines over many months and the men he knows are very different from those depicted in current accusations about civilian deaths in Haditha. Newsweek and Time magazines, among others, carried his images. A cropped version of his image of an opened shroud that revealed a corpse appears in the June 12 Newsweek under the banner, "Probing a Bloodbath." He was not with the men last November when the civilians were allegedly killed but he was there two days later. The Marines say 15 civilians were killed in an IED blast and subsequent fighting. Investigators say 24 civilians were killed in their houses. In 2004 his photographs supported the awarding of medals to the men of Kilo Company after a clash in Fallujah. This year his images of the Marines reappeared along with allegations of a massacre.
Bea Ahbeck self-financed a trip to Uganda to find rehabilitation camps for former boy soldiers and abused girls. The children had been abducted from their villages by rebels; the boys to kill others and the girls were often used as sex slaves. Some suffer terrible physical wounds; all suffer from the abuse and loss of their families. Living in the bush for years, they have forgotten how to take care of themselves and others. Some were taken at such a young age they never learned some basic tenets of living in society. Their shattered lives need to be sheltered, loved and taught to live. Ahbeck decided to sign up for a class working with NGOs in Uganda offered by Maine Photographic Workshop. This gave her a structure and access to the camps but when things became dangerous and the Workshop called students home, Ahbeck stayed and continued her work. It was a gamble that she might have regretted; as it turned out the gamble paid off. She's now planning a story on the "Night Commuters," the children who walk from their villages to a safe place to avoid the very same rebels responsible for abductions.
David Bathgate, like David Honl, confronted a very common situation for photojournalists—they were prohibited, for different reasons, from completing their first assignment. They had to adapt and quickly take advantage of new opportunities. Bathgate writes of a battlefield hospital in Afghanistan and Honl spent time with refugee children living with their families in Saddam Hussein's abandoned theater. Built for theatrical and musical entertainment to amuse the dictator, it now houses refugees caught in the absurdities of war.
Golnaz Beheshti, a young woman in Iran, sent in a story about underground rock bands in Iran. Not accepted by society at large, the bands play in basements to small groups of admirers. The bands obviously don't advertise and are therefore hard to find. Gaining their trust also takes some skill. Beheshti tracks down one band, experiences the overwhelming sound of the music and blurs her images to express their spirit and possibly to protect their identities.
Norman Ng left his newspaper job in Kansas City to move to Asia and work. His dispatch concerns recent disturbances in East Timor (Timor-Leste). He writes of groups in different parts of the capital city, Dili, turning on each other, complicating the emergence of the new state. Ng's decision to leave a comfortable job and take on an exciting but uncertain future confronts many photographers at a certain time in their career.
British photojournalist Hazel Thompson often works with charity and aid agencies to document social issues and humanitarian subjects. Her work with Jubilee Action gave her access to jails crowded with child prisoners in the Philippines. Because the government of the Philippines discourages anything that would draw attention to the dank, hot facilities, Thompson had to adapt to terrible conditions and limit her equipment to photograph surreptitiously. A story not much covered (if at all) in the States, it reveals the filthy, flooded cells and the desperation of boys incarcerated for, essentially, misdemeanors and forgotten by the world.
Each of these photographers brings skill and street-smarts to difficult subjects. They are all good examples of the contemporary photojournalist.
Marianne Fulton
Dispatches Editor
mfulton@dvnetwork.net
---