Until a century ago Iranian music was limited to folklore music. However, since then the influence of different kinds of western music has brought Iranian music out of its isolation, giving it more variety for its enthusiasts. This gradual change has caused our music to get closer to the mainstream of world music.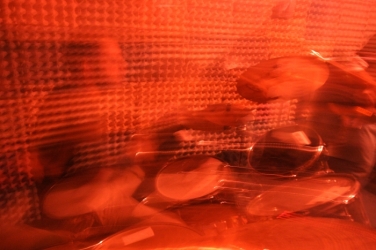 Members of the band change the lights as their moods change.
Golnaz Beheshti
One of the attractions for Iranian youth is pop and rock music whose fans are increasing daily in number. One of the signs of this widespread influence has been the gradual formation of underground bands during the last few years. The members of these groups, like their peers in other countries, are young people with innovative ideas who prefer to be in their own little circles and away from the madding crowd. Their innovation and contrast with the traditional Iranian music made me want to experience and record one of these underground groups.
At first look it seems that this band only imitates western bands while in fact there is an eastern and Iranian attitude behind what meets the eye.
Golnaz Beheshti
These bands are mostly working secretly in Iran and don't have a work permit. It is not easy to get in touch with them. That's why it took me several months to make contact with one of them. After much persuasion they let me into their small group. The rehearsal room was a small, smoky room in the basement of a building and was covered with sponges and egg boards to make the walls acoustic. There were three guitars, one set of drums, an amplifier and a few loudspeakers in the room.
When I entered the room I was shocked to see how they could accommodate all that stuff in such a small room and still manage to rehearse there. They were working with the minimal facilities and my being present meant there was barely enough space to move around.
The small, smoky room that can barely accommodate the band members.
Golnaz Beheshti
When they started rehearsing, the music was so loud I couldn't think how to begin to work. After a while I got used to the atmosphere and was looking for a way to shoot without disturbing their work. It was difficult at first but when they got used to me as well, they made way for me to move around and let me do my job.
What occurred to me in the first few days was that they were only imitating western bands. But as time passed and I got closer to them, I noticed that although they resembled western bands they had a certain eastern and Iranian identity that made them distinct from foreign bands.
With the widening spread of rock music in Iran, we may soon witness these groups coming out of the basements and presenting their work officially in public.