© Lisa O'Connor/ZUMA Press
Tilda Swinton at the 80th Annual Academy Awards held Feb. 24, 2008 at the Kodak Theatre in Hollywood. She later won the Best Supporting Actress Oscar.
T
he beginning of the year usually heralds the start of Awards season and this year's writer's strike only managed to slightly slow the race that leads up to Oscar Day, knocking out the People's Choice and the Golden Globes. The path to the Oscars was paved with some of the year's most star-studded award shows like SAG, Directors Guild, Producers Guild, Costume Designers and finally, the Independent Spirit Awards that take place the day before Oscar Sunday on the beach in Santa Monica.
So what is the Superbowl for Entertainment Photographers really like? I wake early and enjoy a nutritious breakfast knowing that the only solace for my acid-filled stomach five hours from now will be whatever random snack happens to be in my camera bag until dinner backstage inside the Kodak Theatre but we will get to that later. Of course my black tie attire is freshly pressed in the cleaner's plastic bag awaiting the big day and I complete my ensemble with my most comfortable black shoes.
© Lisa O'Connor/ZUMA Press
Diablo Cody holding her Oscar for Best Original Screenplay for "Juno" in the press room at the 80th Annual Academy Awards ceremony, Feb. 24, 2008, Hollywood, Calif.
Getting to my spot on the red carpet at the Kodak Theatre at Hollywood and Highland is a bit like running an obstacle course. After parking and shuttling, one must remove all 75 pounds of camera gear and clear a waiting and sometimes paranoid phalanx of security officers and their x-ray wands. All equipment is inspected and after the process of the post-security re-dress, I make my way down the long block of Hollywood Boulevard to my second row spot. The street takes on a completely different look on this day. I weave through satellite trucks, miles of cable, a bridge that wasn't there two days ago, bleachers, risers and the bonus of Entertainment Tonight's cutie Mark Steines in a tux.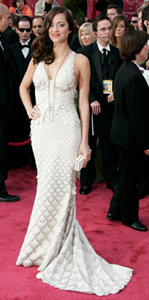 © Lisa O'Connor/ZUMA Press
Marion Cotillard on the red carpet outside the Kodak Theatre in Hollywood on Feb. 24, 2008. Later that evening, she won the Best Actress Oscar for her riveting portrayal of Edith Piaf in "La Vie en Rose."
The second row is never a good thing. To further induce Oscar Day stomach acid, the 6'4" gentleman arrives to his spot in front of me. My mind immediately goes into damage control mode as I am height impaired, only 5'6". I try to imagine my shots of Cate Blanchett without this guy's shoulder blocking her dress. The dress is of utmost importance on this Holy Day of Fashion. Luckily he worked with me and through a series of dodging and weaving, passing compact flash cards to a runner, getting jostled and bumped over the three hours of arrivals, I was off to the Press Room.
After another round of security and metal detectors, I passed awaiting aromatic food on my way to the Renaissance Hotel's Press Room. Imagine four rows of carpeted risers, strobes and lots of exhausted, sometimes stinky, photographers testing cameras and lights, and dissing the fashion. There is barely enough room for my backside and no room for my camera bag so I meander with only what I will need to my spot. I was able to cram in enough food to get through the three and a half hour live show before the first winner came in with their award. Nine and a half hours and 1,500 images later, the 80th Annual Academy Awards are over. I have my massage appointment made, my camera gear cleaned and my clothes are again at the cleaner's awaiting next year's extravaganza.