NAB 2014 - 4K: THE NEXT NEW THING… FOR THE MOMENT! by PF Bentley
As soon as I slowly walked into the Las Vegas Hotel after my flight from Hawaii at 12:30am I found him. Elvis was standing there waiting for me. That's more than I can say about Dirck Halstead, but we'll get to that shortly. Read More Posted 20140408
---
Once again I was among the Thursday walking techno-zombie dead. But the last day of NAB is actually a good day since 75% of the people have gone home. The floor is wide open and you can actually get some personal time with software managers and the folks who build the gear. Read More Posted 20130413
---
DIRCK HALSTEAD REPORTS ON THE 2013 NAB SHOW AND EXHIBITS
The National Association of Broadcasters, or NAB, calls itself "The Best Show On Earth." Held April 6-11 in Las Vegas, it is the world's largest electronic media event, covering film, entertainment, and the development, management and delivery of content across all mediums. With more than 90,000 attendees from 151 countries, and 1,600+ exhibitors, NAB is the ultimate marketplace for digital media. From creation to consumption, across multiple platforms and countless nationalities, NAB is home to solutions that surpass traditional broadcasting and encompass content delivery to new screens in new ways. It is the ultimate video geek toy store! Read More Posted 20130412
---
NAB 2013 The Super Meet - The Creative Pro Users Group's Big Night
Adobe Premiere Pro Project Manager Al Mooney does another great Vegas performance.
I wanted to devote this post to the Super Meet, which in the past got a paragraph at the end of our annual NAB reports. To me, it's the best night of NAB week. The annual meeting of the editors tribes. Michael Horton and his crew do a bang-up job and work their butts off each year. Last night was wonderful and not a technical glitch to speak of. It was perfect. Hats off to the tech crew that worked the Rio Ballroom. You rocked. Read More Posted 20130409
---
NAB 2013 Day One - The Exhibit Hall Opens
Roger and I bought some gear to test. We used Dirck's credit card - hope that was okay.
Lots to report from the NAB exhibit floor this year. You'll get the full story over the next four days, if I survive. I walked at least 27 miles today with little time for food. Who says Vegas is a fun town. Read More Posted 20130408
---
NAB 2013 LET THE GAMES BEGIN - 9AM TOMORROW
As Roger and I wait for the doors to the NAB Exhibition Hall to open tomorrow morning at exactly 9am we are thinking about what may be the star of the show. Some new software update like CS7, some new camera, a plug-in that makes your editing life easier or a piece of gear you never knew you needed? Read More Posted 20130407
---
NAB 2013 POST PRODUCTION WORLD & FOOD FOR THOUGHT
Future Media Concepts' Post Production World started today at 12. Roger and I both sat in on numerous workshops dealing with the Adobe CS6 Suite, which has some very cool upgrades in all video applications that Adobe will be showing starting on Monday. It might be called CS7, but what do I know. Read More Posted 20130406
---
The Las Vegas Convention Center quietly waits in ready for a wild week ahead.
It's time again for National Association of Broadcasters Show (NAB) and this year The Digital Journalist is doing things differently. Read More Posted 20130405
---
In Memory — The War In Iraq — Ten Years On by Peter Turnley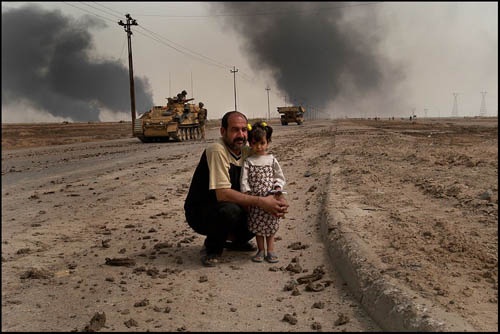 © 2013 Peter Turnley / Corbis, All Rights Reserved
It is important that a photographic record serve as a constant opportunity to assess the past, and think about the future. Somethings should never be forgotten. - See the Iraq War images on Peter Turnley's site. Posted 20130320
---
A middle-aged arthritis sufferer leaped spritely onto a brick platform in the gardens of Jama Masjid, a mosque in Old Delhi. He sprang back down again, grinning. He was showing off what he said were the results of the traditional cure for which he was patiently waiting in line. Venesectionist Mohammad Gyas watched as the son he trained sliced open the tourniquet-bound hands and feet of the sick with single-use razor blades. Read More Posted 20130319
---
ONLY SIX WEEKS LEFT TO APPLY TO OUR SANTA FE DIGITAL VIDEO STORYTELLING WORKSHOP!
We are very excited about our upcoming Platypus workshop in Santa Fe New Mexico in late May.

And for very good reasons. The Platypus is unique among all video workshops because it is primarily about teaching film and video storytelling. Read More Posted 20130319
---
MediaStorm's Rick Gershon and Nathan Golon traveled to Angola for 10 days recently to tell the story of the work of the Mines Advisory Group at work uncovering the thousands of mines laid by rebel forces in that African country. This was also a test for the new Canon C300 camera, which is capable of delivering cinema like imagery. The photography is stunning. Watch Surviving the Peace: Angola
Rick Gershon reports on his use of the Canon C300 camera which produced this amazing film. Posted 20130306
---
The Canon 1Dx: A Hands on Review
The Canon 1Dx, current flagship of Canon's DSLR line, is the ultimate stills camera, an excellent filmmaker's tool and very near to perfect for the multimedia photographer. Read More Posted 20130306
---
2013 Digital Video Storytelling Platypus Workshops
A 21st century digital storyteller has to be producer, writer, camera, sound, editor, and everything else. Just like the millennia-old Platypus, a mashup of otter, duck, and beaver, has evolved and survived, so must the modern photojournalist. Read More
---
MILITARY PHOTOJOURNALISTS FLOCK TO THE PLATYPUS WORKSHOPS
Over the twelve years we have been conducting the Platypus Workshops around the world, we have noticed some interesting changes in the makeup of our classes. For the first five or six years, our attendees were almost entirely freelance or newspaper staff photographers. During that time, we trained more than eight Pulitzer Prize winners. Read More

---
HORST FAAS, LEGENDARY COMBAT PHOTOGRAPHER DIES AT 79
I knew Horst Faas well. When I first arrived in South Vietnam in the spring of 1965 to create the UPI photo bureau, I was advised, while in the field, to study the movements of the AP photo bureau chief. I should: go where Horst goes, try to get pictures as good as his, and never go where he never goes. Read More
---
The State of Video at Newspapers
A few observations from our web experience with video at The Pantagraph, a 48,000 circulation paper and an 8 million unique views per month web site. Read More
---
A Memorial Portfolio of Photographs
by Peter Turnley
---
If you're a traveler at heart and you love seeing the world, then you must experience Visa Pour L'Image at least once in your lifetime. And if you're a professional journalist who draws inspiration from the works of your most talented colleagues, then you must roam this annual photo festival at least once during your career. Read More
---
THE PLATYPUS WORKSHOP IN FLORENCE, ITALY 2011
Platypus Workshop director Dirck Halstead demonstrates interview and Litepanel lighting technique with edit instructor Tom Wolsky for the Florence Platypus Workshop. Photograph by Gary Keifer
---
9/11 Story
---
As we move slowly out of hiatus, we will be reformatting The Digital Journalist as a blog. This means that we will be adding features and news of the industry in a timely fashion.We will notify you on our mailing list, as new features are added. In the meantime, all of our archives are live, and we commend your attention to those priceless resources.
A Letter to the Viewers of the Digital Journalist - Spring 2011
---
The following story both won first place awards for best feature from the online news association.