Once every year, around February, Cologne - a town on the Rhine known for modern business, manufacturing, banking, catholic-political tendencies, designers and fashion, its cathedral and a sophisticated cultural life - succumbs to the follies of carnival. Neither visitor nor burgher of Cologne can escape the merry madness for at least six days and nights.
High-speed trains connect Cologne's main station and Cologne-Deutz, opposite the Exhibition Center, with the airport and all European capitals and main cities. Background: Cologne Cathedral (at Cologne Central Station).
Once every two years, Photokina - the world's largest fair bringing photography manufacturers, consumers, photography-artists and anybody remotely connected to the business of imaging together - has a similar effect on the city.
While the exhibition halls on the left bank of the Rhine in Köln-Deutz fill up with the photographic hardware of the leading photographic manufacturers, scores of ambitious photo exhibits, displays of photography competitions and "alternative" photography shows open in the exhibition halls and in the many museums and galleries on the right bank, in the old town. The many world-renowned museums of Cologne, usually displaying medieval, classic international, European and modern art all accommodate the relatively young art of photography. During the week of Photokina, Cologne - the classic arts, all forms of photography and photography-related technology and business - are happily merged.
As during carnival, Photokina is a time when six days and nights are not time enough to see and enjoy it all. When Professor Fritz Gruber, now aged 96 and still involved with Photokina, organized a few photographic exhibitions alongside the first technology fairs of Photokina in the mid-1950s, he did not realize that it would become the carnival of Photokina 2004.
But it is useful to remember.
Photokina - Remembered
Early evening view of Cologne Cathedral with part of the old town across the Rhine from the Photokina exhibition ground.
The Cologne Photokina is no longer what it used to be. Photokina, held every two years, started 50 years ago as a gathering of professional photographers, photo dealers and the photographic industry. The last two days of each exhibition were reserved for hordes of eager photo amateurs. Almost everything revolved around conventional film and the latest top-end products of Leitz, Rolleiflex, Hasselblad and later, Japan's Nikon, Canon and others.
This correspondent used to wander through the vast exhibition halls to find novelties for The Associated Press's portable darkrooms, cheap and travel-light film processors or affordable camera models and lenses - bearing AP's annual budget for hardware in mind.
Photokina was a meeting place for photojournalists from all over the world - all looking to update their gear, and some to show off their photographs and achievements or launch books. A two-day visit to Photokina was a must for everybody in the business of photojournalism - at least from Europe - to learn, see and meet.
A birds-eye view of the Cologne fairground on the northern (left) side of the Rhine. The Cologne Cathedral is just across the river.
This year's Photokina was hyped as a "Global Summit Meeting of the Imaging Sector" with 1,600 exhibiting suppliers from 50 countries, the "Global Players of the Imaging Market." Names, designations, and technical descriptions of virtually every product are almost impossible to remember or even understand. Buzzwords and technical gobbledegook numb the visitor.
It shows that in the brave new world of photography the manufacturers of photographic tools, consumer electronics, information technology, telecommunications and printing technology, hardware and software have all gotten mixed up and invaded conventional photography. But they featured a wealth of innovations.
Mega-Trends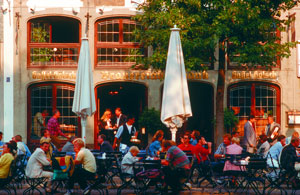 A beer hall and garden in the old town of Cologne.
The mega-trends of Photokina 2004 were the accelerating boom of digital photography (with its profitable paraphernalia, such as printer supplies, memory cards. storage devices, etc.), mobile imaging - with many camera-equipped mobile phones (presented by Nokia, Deutsche Telecom, Sony-Ericsson and Samsung) - PCs and imaging software (with leading suppliers such as Adobe and the first-time exhibitor, Microsoft).
It was significant that new exhibitors like Casio, Epson, HP, Panasonic and Sony demonstrated with the size of their exhibits that they consider themselves main players in the photography-related industries.
Revolution in the History of Photography
Europe's leading newsphoto magazine, Stern, proclaimed in its Photokina 2004 issue that the change from analog to bits and bytes, from film to sensor manifests the greatest revolution in the history of photography.
Digicameras for Every Pocket
A sleek cigarette case-shaped Contax pocket camera from Yashica Kyocera (Japan/Germany).
In the first four months of this year manufacturers have brought 210 new digital camera models onto the market, according to Photokina sources. By year's end, 600 more digicam novelties are expected by marketing experts.
Market projections at Photokina indicate that the digital photo boom will peak in 2008 and that only thereafter may the markets be saturated.
Three major trends evolved from the digicam novelties at this year's Photokina.
There were many super-slim cameras. Ever-smaller chips and optical lenses have reduced the camera sizes to almost debit-card format.

The Contax i4R from Kyocera weighs only 90 grams, at 398 Euro ($ 500)
Casio claims a world-first: They presented the first digital camera with a ceramic lens, made of a material that is now used in high-end optical technology. Their Exilim Card EX-S100 measures 88x57x16.7mm, achieves 3.2 megapixels and has a 2.8 optical zoom.

The trend to more and more pixels continues: some of the compact cameras have a resolution of 7 and more megapixel. Among them:

The Sony Cybershot P150, 168 grams light, with 7 megapixel
Fuji Finepix F810 with 6 megapixel and a 4x zoom
The Canon Powershot S70 with 7.1 megapixel
Super Megapixels
At the Kodak stand an 18.8 megapixel sensor (KAF-18801) was presented, allegedly the only CCD-sensor in the world with a resolution of over 16 million pixels. The 4 x 4 cm sensor finds practical use in the back of a Hasselblad camera (555ELD). It produces image data packages of 48 megabytes.

There is a boom for super-zoom lenses that still fit into shirt pocket-sized cameras. Among them:

Nikon's Coolpix 8800 with 8.3 megapixels and a 10x zoom and their Coolpix 4800 with 4 megapixel and an 8.3 zoom
Kodak's Easyshare DX 7590 with a 10x zoom
Leica's 12x zoom lens Panasonic DMC-FZ220
Many of these cameras also have a picture stabilizator.
"Fun" Cameras, Buzzword: Lifestyle
Much of the hyped-up promotion and advertising for compact pocket cameras sounded (and read) like reporting from fashion shows or pop concerts.
"Smaller, faster, colorful - cameras have certainly become more fashionable."
Many a press release with a new digital camera begins with similar lines:
"Good looks, great performance"
The cameras are described like catwalk models...
Canon's "Arcadia" model comes in flaming orange finish and a round shape.
Canon's model "Summer" is square and silver with turquoise dressing.
Canon's Ixus i5 is small and light - a true Lifestyle camera.
Male and female models, singing pop stars advertise Olympus digital cameras.
The Minox DC3311 can be bought plated with gold and two diamond splinters for Euro 1,000 ($1,250).
The Contax i4R is described as "small, thin, simple and stylish: 94mm long and 21mm thin, it gives the user the impression that they are holding something that resembles a perfume atomizer. (The) i4R is covered in aluminum and available in silver and red with a spun surface and black with a deep, rich mirror finish."
Camera manufacturers flirt with their "minimalist design flair."
Olympus marvels that their AZ-2 ZOOM $ 399 pocket camera has "a triumphant minimalist design flair: Nothing spoils the clean lines of the AZ-2. Its distinctive, slim form is not even compromised by a 2.8x optical zoom."
"Design has become very important," said the marketing manager of Olympus, when he introduced Mju Mini - a compact camera that fits into a cigarette box - at Photokina. Mju Mini was presented in loud paradise-bird colors like "velvet red," "copper orange," "cosmic black" or "crystal blue," each for about 350 Euro ($ 240).
Mju Mini was presented onstage at the Olympus booth by nonstop dancing or gyrating, singing or screeching pop-singing young men, and women in skimpy dresses which matched the cameras' colors.
Now Affordable: Digital TTL Cameras.
Digital TTL cameras can now be bought at prices attractive to amateurs and the beginning professionals. Photokina had some surprising TTL novelties on display.
Stern magazine quoted a German photography professor from Hanover: "Anybody who wants to do real photography and not only snapshots can't do without TTL cameras. That applies to digital photography just as (to analog photography) in the past."
Up until now the costs for a TTL-digicamera for a beginner presented a major hurdle. Affordable prices will make it possible for photographers in low-income (Third World) countries to switch to digital.
Photokina revealed that today an investment of about 1,000 to 1,600 Euro ($ 1,250 - $ 2,000) for a digital TTL camera can get you on the bandwagon of semiprofessional digital photography.
The traditional viewfinder, larger photosensor chips for better quality and speed, as well as the option of changeable lenses, make the TTL digital the basic tool for the beginner.
Sources at Photokina said affordable models like the Canon EOS 300D and the Nikon D70, both available for about 1,000 Euro ($ 1,250), have already taken about 80 percent of the market. Other reputable firms are trying to invade the affordable TTL camera market:
Pentax showed their *istDS model with a 6 megapixel sensor, available with a zoom for about 900 Euro ($ 1,125) in November 2004.
Olympus showed their E-300 in the same price range.
Konica Minolta presented the final version of their 6 megapixel Dynax 7 Digital with a stabilizator in the camera (about 1,400 Euro or $ 1,750).
There was also a variety of middle-price-range cameras for professional digital beginners who just can't yet afford the top-range investment - about 5,000 Euro ($6,250) - necessary for a Canon Mark2 or the Nikon D2x.
Canon's IOS 20D, with 8 megapixel and improved trigger reaction (5 pictures per second), is available for 1600 Euro ($ 2,000). Fuji's high-end camera, Fuji Finepix S3, with an astonishing 12 megapixel sensor (which is said to optimize contrast and detail), has a price tag of about 2,500 Euro ($ 3,150) and is a true middle-class camera.
Readers of The Digital Journalist will be familiar with the super-professional top-range cameras of Canon and Nikon. Canon's EOS-IS MarkII camera was the star and winner of the 2004 Athens Olympic Games among the competing 1,000 accredited photographers. Nikon's D2x, with 12 megapixel, up to eight pictures per second, wireless data transfer and many other new features, was the star at Photokina.
The Leica (Solms) TTL camera with a digital back R-9.
Leica Camera AG, Solms, Germany, too, is competing in the top range of digital cameras. With the Digital-Modul-R back the analog Leica Reflex camera R-8 and R-9 can be switched from analog to digital and back. The digital back alone is priced at Euro 4,500 ($ 5,625).
Profitable Paraphernalia
The gadgets and supplies that come with digicameras are the big money-spinners for the suppliers.
The total dollar (and Euro) volume from the sale of memory cards is expected to surpass that of film by now. During Photokina, Fujifilm and Olympus America, Inc. announced the development of a One Gigabyte xD-Picture Card, capable of holding an entire gigabyte of digital images, data, audio and video.
A large array of small and sleek portable hard disks, appealing to all those vacationers who left their computers at home and want to unload their digicamera chips, has price tags from 300 to 550 Euro ($ 375 - $625).
Photographers' vests for animals - the new production line from B.I.G.Brenner GmbH (Imports).
Printer inks and paper sold by electronic media-market chains rake in big profits. The small photo shop at the corner has disappeared from Europe's high streets, like the butcher, the baker and the barber.
Kodak was one of the first companies to catch on to one of the biggest flaws of the new digital technology. Millions of photographers were growing frustrated with pictures that remained in their cameras' memories and could not easily be printed out with an acceptable quality or price.
At Photokina, Kodak showed a range of products they developed to put the paper back into photography: Kodak's online printing service, called Ofoto, is already popular. Kodak also developed an easy-to-use home printer (using Kodak thermal paper) which can be docked with most digital cameras. Kodak's most successful products - the iconic yellow boxes of film that once ranked among the most profitable consumer products - were still on display in Cologne, like relics of a time long past.
Snapshot Telephones
Nokia tried to prove at Photokina that mobile phones can do more than take a portrait or party snapshot. They gave us the "lifeblog' diary, which records all the phone's photos, videos, received and sent messages (SMS and MMS). It is only necessary to connect the phone every few days per USB cable with a computer to sort and enter the photos and messages into the diary. (The Nokia 7610, with 1 megapixel, is thus far the only phone working with "lifeblog.")
The pixel race for snapshot mobile phones has passed the one-million mark. Ericsson is on the market with the sleek silvery model S 700. NEC and Siemens followed suit. An announcement said that Mitsubishi will soon make a two-million pixel model available to their European and U.S. distributors.
Almost all manufacturers offered what they call "smartphones" for both still photography and video. The videos can be captioned, sound added and then transmitted with Bluetooth, MMS and E-mail.
As teenagers spend much of their money on photo mobile phones, an Olympus marketing manager sees no competition for digital pocket cameras. "We will profit from each other," he said at Photokina. "Snapshots with the telephone will lead to photography with digital cameras." He hopes that design and colors of his Mju Mini cameras will repeat the fashion-icon success of Apple's iPod.
Collectors' Cameras and Prices
A model with the anniversary remake of the 1923/24 Oskar Barnack, the first Leica sold as an expensive special-edition.
Leica's "Year Zero" was in 1923/24, when the first Leicas were tested by selected photographers. To celebrate the Leica's 75th birthday exact copies of the original model are offered by the German camera maker. The lens is a copy of the original Leitz-Anastigmat 1:3.5/50cm - and as with the original, the lens cover must be placed over the lens when the shutter is cocked. Taking pictures wasn't always as easy as it is today. Along with the vintage-style camera, the collector acquires copies of the construction designs of Leica inventor Oskar Barnack and his first manual.
To commemorate the Leica M-series, Leica offers as a megaprize two titanium sets of the M7 model. One set (a limited edition of 500), which includes a titanium Summilux-M 50mm f/1.4 Asph. lens, costs 10,000 Euro ($ 12,500). The premium set (limited to a quantity of only 50) contains three lenses: the aforementioned Summilux-M 50mm f/1.4, the Summicron-M 28mm f/2 Asph. and the Apo-Summicron-M 90mm f/2 Asph. Add in the collector's book, "50 Years of Leica" as well as the Rimowa silvery camera case, and the premium set's price soars to a whopping 20,000 Euro ($ 25,000).
For the ordinary Leica M fan, collector (or snob), Leitz also offers the M-model ā la carte. Leica reps at Photokina said that there are more than 4,000 combinations possible to configure a unique Leica M7. There are scores of leather covers available, the camera can be engraved, colored and variations for the camera's viewer and the handling of the camera are available. The wish list can be composed on the web at www.leica-camera.com.
Minox, the German maker of fine-precision photo-optical/mechanical devices, is celebrating their own Leica anniversary: Half a century after the legendary Leica IIIf came on the market, Minox is producing an exact 1:3 digital replica of the Leica classic and calls it the Minox Classic Camera Leica IIIf. The lens is a Minoctar 1:5.6, 15mm. Although the camera has the classic film transport handle, the innards are digital, with 1.3 megapixels and an internal hard disk which can store 60-99 images. The camera can also record brief video sequences. Photos can be transferred per USB cable to a laptop. The amazing mini replica costs about 300 Euro ($ 375), only half of a well-used secondhand Leica M3.
The new Minox film camera (Minox MX) is among the most minimalistic cameras: It is barely larger than a key ring attachment at 8.4x2.1x3.4 cm and weighs only 55 grams. It can be easily lost in a trouser pocket. The Minox 8x11mm film can be inserted without fiddling into a compartment in the back of the camera.
Storage Standards for Imaging and Electronics Industries?
What will happen to all the digital pictures taken now in 10, 20, 100 years? Will there be photo albums and photographic records to look at; will it be possible to open data stored away on hard disks and CDs today? This question mark hangs over all digital photography enthusiasm today.
Cheap digital printers already bring digital photography back to paper and into the family album. The manufacturers claim that the photo prints will last at least 100 years - a claim that only our grand-grand-grand-children will be able to verify. Certainly, printers do not solve the problems of photo libraries and archives of all sorts.
A number of global manufacturers chose Photokina to announce an agreement to set standards that may help to preserve images for future generations.
COLOGNE, Germany, September 27 - Konica Minolta Photo Imaging Inc,. Fuji Photo Film Co., Ltd., and Eastman Kodak Company, today announced an agreement to jointly develop a set of open storage standards for the consumer imaging and electronics industries, aimed at the preservation of digital photos and motion images on CDs, DVDs or other media. As information storage technologies advance, the Picture Archiving and Sharing Standard (PASS) group's intention is to enable digital file compatibility with future playback devices, preserving the satisfying "photo experience" that consumers have enjoyed for decades.
The group intends that the new standard will accomplish the following:
1. Define the requirements of digital media authoring/archival, playback, and print enablement for a new generation of products and services;
2. Provide interoperability for pictures, motion images, audio and related content among such future systems;
3. Utilize and unify multiple existing standards, to better meet the consumers' desire to easily store, organize, print and share for generations to come.
Konica Minolta, Fujifilm, and Kodak have previously worked together on standards to make traditional photofinishing ubiquitous. In much the same way that today's consumer can get nearly any brand of film processed at any location, the PASS group wants to ensure that digital images can be retrieved from any digital device or storage medium.
It would be wonderful if we could trust them and see the digital images produced and displayed by the master photographers of today in 100 years, at Photokina.