I've had the opportunity to play with Nikon's new flagship DSLR for the last month or so and for what it's worth, here's my opinion.
Support our sponsors
The Nikon D3x is without question the best digital DSLR that I have ever used.
With its 24.5 million pixels it produces absolutely wonderful images with incredible resolution and color fidelity at a wide range of ISOs.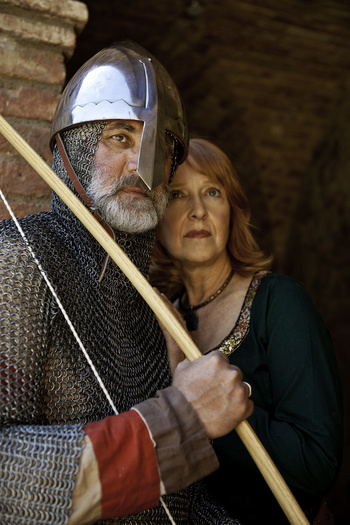 © Chick Harrity
A Knight to Remember, Castello di Amorosa, Calistoga, Calif. - ISO 100, 1/125 at F4. AF-S Nikkor 24-70MM F/2.8G ED
It took Nikon quite a while to get into the full frame race but when they did in 2007, the D3 and the D700 cameras arguably vaulted them into the lead in the ever-seesawing race with Canon for the top pro photojournalist camera of the moment. However, Canon still had the megapixel lead until the D3x came along this year.
I have read with some amusement all the carping about how expensive the D3x is compared to the other choices available now so I dug this quote out of Simon Joinson's excellent review of Canon's Mark III on dpreview.com back in August of 2008. "The Mark III's main problem is cost; you've really got to need 21.1 megapixels to fork out $8,000 on a body and heaven knows how many thousands on the lenses necessary to actually get the benefit of all that resolving power. Of course, the counter argument to this is that the EOS-1Ds Mark III is a serious professional tool, not a photo hobbyist's plaything, and those it is designed to appeal to simply won't be worrying about the price as long as it does the job it was bought for."
I disagree that in our current economic situation people won't be worrying about the price, but I will suggest that those who want and need the best available quality at the moment will be happy with the results from the Nikon D3x. The remark about needing really good glass is very true; there is no reason to have all those megapixels if you don't have the lenses with the resolving power to take advantage of them.
© Chick Harrity
Swordplay at the Castello di Amorosa, Calistoga, Calif. - ISO 1600, 1/60 at F2.8, AF-S Nikkor 24-70MM F/2.8G ED
Now this is not to say that the D3x is the top choice for every shooter out there. Running around covering a war or civil disturbance and working out of hotel room with a laptop is not necessarily the place to be dealing with 24.5 meg RAW files that open in Photoshop as 16bit, 139.5 M files or in 8 bit as 69.8 M. Dedicated sports photographers are probably not going to be happy with only 5 frames a second either.
On the other side of the coin are the studio shooters and the fine-arts crowd who are going to be going gaga over the depth, clarity and texture in the images.
© Chick Harrity
Castello di Amorosa, Calistoga, Calif. - ISO 1600, 1/80th at F4, AF-S Nikkor 24-70MM F/2.8G ED
Sensor size aside, the new camera is a D3 as far as build quality and most features are concerned. The major differences are 24 mp over 12, 5 frames per second rather than 9 at 12 bits capture and a really slow 1.8 frames per second compared to 9 when shooting 14 bit in RAW. Interestingly enough, the NEF Buffer has been improved to 21-34 images from 16-20 while the JPEG Buffer for FX Fine Large has gone down to 44 images compared to 52. The ISO range differs also, 100 to 1600 versus 200 to 6400. Extended ISO range gets the X model down to 50 and up to 6400 but I don't think I would shoot at anything higher than 1600 except in extreme situations. The D3 and D700 are still the kings of the high ISO pack but they can't touch the D3x in resolution, clarity or dynamic range up to 1600.
Having just reread the previous statement it got me to thinking that quality images at ISO 1600 used to be considered amazing; now we take 3200 and 6400 for granted!
© Chick Harrity
Farmer's Market Peony - ISO 100, 1/250 at F5, AF-S Nikkor 24-70MM F/2.8G ED
The biggest nitpick that I can find is the lack of an in-camera dust removal system like the one in the D700. Another is that you might have to upgrade your computer, its memory or storage or all three to handle the larger file size.
A fellow shooter, friend and ex-Calistogan, Liza Gershman, e-mailed a few weeks ago to tell me that the Professional Photographers of the Redwood Empire were going to do a shoot and wine tasting event at Castello di Amorosa a few miles south of Calistoga and they had arranged for a couple of models in period clothing. It turned out to be a good test of results at both ends of the D3x's ISO scale.
© Chick Harrity
Diego, The Whistler and Jamaican Sorbet Maker - ISO 400, 1/125 at F5.6, 24-70MM F/2.8G ED
Later, reviewing my test, I noticed that I had been shooting mostly people and events so I loaned the camera to landscape shooter Wes Thollander, who shows with me at the Lee Youngman Gallery in Calistoga, to get an opinion from a really meticulous quality nut who constantly amazes me with his images from all over the world and the 16" x 20"s he makes from them with his Epson printers. Here's what he had to say about the camera.
"You asked of my thoughts regarding the D3x: Of course, one day is not sufficient to explore all of what this machine does, but I used it in the same manner I would have used the D300. The proof for me is in the print, and I think it renders tonal changes with wonderful subtlety and smoothness, much the same as the difference between a film 35mm and 4x5 camera would have. For me, this is what I was looking for, and the reason I have not yet sold my 4x5 equipment, although I am considering doing that now. In spite of its weight, it's far easier to handle than the 4x5, and all the controls are familiar to me, so setup is easy and quick. I also took a few architectural photos, and the detail in them is quite remarkable. Coupled with Photoshop's ability to correct keystoning, this is a great tool for architectural as well as landscape.
© Chick Harrity
Calistoga's Casa de la Cultura dancers perform at a Saturday Farmer's Market - ISO 400, 1/400th at F10, 24-70MM F/2.8G ED
"I will bring by a 16" x 20" print of one of the shots I made of some redwoods and ferns. It really shows off how well the camera handled the subject, as it needed the smooth tones and shadings inherent in the scene.
"Thanks for making me obsess over this thing ... I now have to go find stuff to sell!"
So despite the huge price tag, the two of us agree that, at the moment, Nikon's D3x is the quality leader in the full-frame DSLR race.
Does anybody out there want to buy an F5 or F100 that have been tenderly abused for many years?