I didn't cover Pres. Reagan on a regular basis but I always looked forward to the irregular assignments. He was always "on" when the cameras were around and I could count on his grace and style and good humor to produce a publishable image.
Whatever one may have thought of his politics, and there were many detractors--his average approval rating while in office was lower than both Bushes--no one who met him could resist his charm and humor he brought to the table.
My two close encounters with Pres. Reagan produced two sides of Reagan the man: one humorous and one emotional.
The humorous one was when I accepted an award from him for a photograph I had taken. We were posing next to each other waiting for the White House photographer to get ready and were making small talk about our roots in Illinois. I looked around the room and mentioned that I enjoyed being the only Democrat in the White House the last few years. He laughed and said his famous, "Well, I used to be a Democrat but I got smart," and then gave me a look as if to say, when are you going to smarten up? Touche!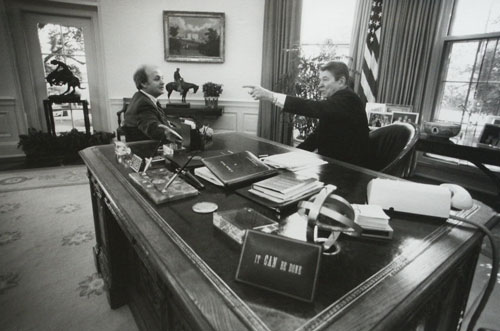 Copyright 2004 Dick Swanson
The emotional one was the day Jim Brady, also an Illinois boy and Reagan's press secretary, made his first journey back to the White House and the Oval Office after recovering from being shot at the same time as Reagan. It was their first meeting after the event (although Reagan had frequently been in touch by phone). People Magazine had asked me to document the private meeting (a press event was to be held later). Being friends of long standing with the Bradys, Jim and his wife Sarah agreed and I was the only photographer (besides the White House photographer) in the Oval Office.
As I stood off in a corner of the Oval Office waiting for Jim to come in, Reagan was standing by himself lost in thought. No humorous banter today.
As Jim came through the door supporting himself by canes, Reagan looked up and had an expression on his face that I had not seen for years on anyone, let alone on a President's face. I had often seen this expression among soldiers and my colleagues as we covered stories around the world. It was the expression of one man's respect for another with whom he had faced danger with grace and courage and survived together.
Reagan then escorted Brady to the President's desk so they could talk. Jim sat down across from a sign that Reagan kept on his desk.
It read, "It Can Be Done!"
With small gestures, expressions and this sign, it became, for me, a defining moment of Reagan the man.
I still didn't vote for him in 1984.

Official White House Photo